Armagh city centre: Tesco superstore gets approval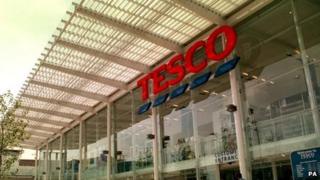 Planners have approved a proposal to build a Tesco superstore close to Armagh city centre.
The planning application was submitted by the Portadown developers J H Turkington who will then lease the facility to Tesco.
The 44,000 sq ft shop will be developed on the Fane Valley site at the junction of Railway Street and Alexander Road.
Armagh city councillors are due to discuss the planners' recommendation at a meeting next week.
The plans were first submitted in 2011 and raised opposition from some local traders.
In its letter of objection, the owner of the Mall Shopping Centre, Drumragh Property Investments, warned that if local "traditional businesses lose out as a result of the impact of a superstore, Armagh's unique character will be diminished".
A retail assessment produced on behalf of Turkingtons concluded that the superstore would increase the "offer and competition" in food retailing.
It claimed the development would also win back some customers who currently travel to Craigavon, Dungannon or Newry for food shopping.