Belfast murder victim Paschal 'Basil' McAfee 'hit with axe'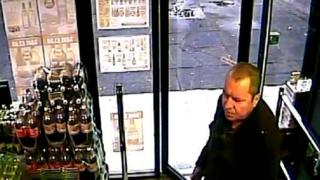 North Belfast murder victim Paschal 'Basil' McAfee had head wounds consistent with being hit with an axe, police have said.
Mr McAfee's body was found by his mother at a house in Henderson Avenue, off the Cavehill Road, on 20 December.
Police disclosed more details about the murder as they released CCTV images of Mr McAfee from the last day he was seen alive.
Mr McAfee had also been stabbed with a knife and his house was ransacked.
Some items, including money, were taken. There were no signs of forced entry, no weapons found
Police have said they do not know if more than one person attacked Mr McAfee.
"What we believe has happened is that at some time on the evening of Thursday 19 December somebody has entered Basil's house," Det Ch Insp John McVea said.
"We know that he has been struck on the head several times by a sharp heavy instrument, consistent with an axe.
"He has then been stabbed quite a number of times by a long-bladed knife.
"This has been a very brutal and vicious attack and we're unclear at the minute and we're keeping an open mind about what the motive has been."
He said a neighbour said he thought he had seen Mr McAfee at about 20:00 GMT on the Thursday.
DCI McVea also said he believed it was an attack by someone who knew Mr McAfee.
The CCTV images were taken in an off-licence on the Cavehill Road on the afternoon of Thursday 19 December.
"These images are a better likeness of Basil than a previously issued photo," said DCI McVea.
"We want people to look at them and think about whether they recognise Basil and whether they saw him any time between 4pm on Thursday 19 December in the off-licence until he was found in Henderson Avenue at 1pm on Friday 20 December.
"We believe Basil was with other people, but so far they have not come forward. We need to know who he was with and where he was.
"This was a savage, frenzied attack. A number of items were taken from the house. Whoever did this is a danger to others in the community while still at large."
DCI McVea said police were following a number of lines of inquiry.
He urged anyone with information to contact them on 0845 600 8000 or anonymously on Crimestoppers on 0800 555 111."
A 34-year-old man arrested on 23 December as part of the investigation was released unconditionally on Boxing Day.