Out to lunch: Arts festival due to get under way in Belfast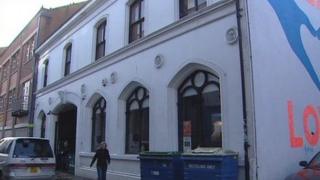 Organisers of a Belfast arts festival due to get under way on Thursday have said it is going from strength to strength.
The ninth annual Out To Lunch festival runs from 2-26 January.
During this time, the city's Cathedral Quarter will host a packed programme of events at lunchtimes and evenings.
Last month, one of the headline acts pulled out due to security concerns. But festival director Sean Kelly said many shows were already sold out.
"Nine years on from our first handful of shows in the back of a truck in Writer's Square, I'm very proud to say that Out to Lunch is now a vibrant, ever-expanding thing of wonder," he said.
"We're delighted to be offering our usual thrilling mix of music, spoken word and comedy in the Black Box this year, as well as offering up 'extra portions' for the first time, in venues like the Barge.
"With the likes of Nina Conti, Barry Cryer, Josie Long, David Rodigan, John Hegley, John Otway, Lindi Ortega, Edna O'Brien, Jacqui Dankworth and Hugh Cornwell on the menu, we're delighted, in a city full of festivals, to be the one that kick-starts the New Year with a bang.
"As last January showed, severe weather conditions and various other disruptions can't stop the mighty Out to Lunch."
The programme features performers from across the musical spectrum from reggae to jazz, and classic pop to folk, blues and rock'n'roll as well as comedy and one-man shows.
Belfast Lord Mayor Máirtín Ó Muilleoir said: "Thanks to their efforts and the ongoing support of an appreciative public, this festival has now become a highlight on Belfast's cultural calendar.
"I am delighted that it continues to go from strength to strength."
The Cathedral Quarter is one of Belfast's main entertainment venues and home to several bars and restaurants.
Last month, a small bomb placed inside a holdall detonated in the Cathedral Quarter as police were clearing members of the public from the area.
Musician Julian Cope, who was due to perform in the Black Box as part of the festival, contacted organisers to say he would not be able to attend because of the "security situation in Belfast".
At the time, organisers said they were hopeful of finding another performer to fill the vacancy.