Vandal smashes eight car windows in Belfast city centre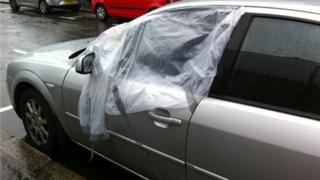 Windows were smashed in eight cars parked in Belfast city centre early on New Year's Day.
It happened at Academy Street at about 04:45 GMT.
Police believe a man wearing a grey hooded top and dark body-warmer caused the damage. He made off in the direction of Dunbar Link.
One of the car owners, who had travelled from Londonderry for New Year celebrations, said he faced a difficult journey home.
"There's nothing stolen, but it's a real mess," said Jim O'Doherty.
"I'm going to have to travel back to Derry in the pouring rain. I don't know if that bit of plastic I've put over the car door is going to hold."