Kevin McDaid: Twelve in court on manslaughter charge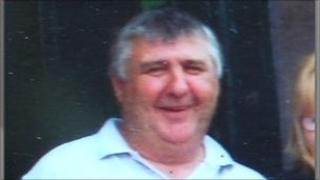 A Catholic community worker collapsed and died after he was allegedly kicked "everywhere possible" by loyalists, a court has heard.
A judge was told Kevin McDaid was targeted "as men claiming to be from the UDA launched a violent attack near his home" in Coleraine, County Londonderry.
Mr McDaid's wife Evelyn and friend Damien Fleming were also attacked.
Twelve men have appeared in court charged with his manslaughter.
They are all further accused of attempting to murder Mr Fleming and varying counts of assault and public order offences.
The defendants are:
Aaron Beech, 28, of John Street, Ballymena
David Craig Cochrane, 23, and David James John Cochrane, 52, both of Windyhall Park, Coleraine
Frank Daly, 52, of Oakland Walk, Coleraine
Rodney Gardner, 45, of Knocklynn Grange, Coleraine
Philip Kane, 39, of Danes Hill Road, Coleraine
James McAfee, 32, of Cloneen Drive, Ballymoney
Christopher McDowell, 37, of Castle Walk Mews, Castlerock
Ivan McDowell, 47, of Taggart Mews, Ballymoney
John McGrath, 54, of Knock Road, Ballymoney
Paul Newman, 49, of Nursery Avenue, Ballymoney
John Thompson, 34, of Knocknougher Road, Macosquin, Coleraine
Amid heavy security at North Antrim Magistrates Court, sitting in Belfast, a preliminary investigation got underway to determine whether the defendants have a case to answer at trial.
Mrs McDaid and her sons Mark and Ryan were among witnesses called to recount the alleged attack linked to a dispute over flags in the Heights area of the town.
Testifying via a video-link, she said she heard men arriving and shouting they were from the UDA.
Asked how many, she told the court: "Piles of them. It was like a mob."
She claimed the attack on her husband continued despite her urging some of them to stop.
'Rugby ball'
Violence was said to have flared on the same day as the Scottish Premier League football title was decided between rivals Rangers and Celtic.
Mrs McDaid's friend, Leona Whittaker, claimed she saw Mr Fleming being kicked and jumped on as he lay unconscious.
According to her account one of those allegedly involved "was using his head like a rugby ball... as if he was about to take a kick".
She also told the court how Mr McDaid was either knocked or tripped to the ground.
"A crowd of people just started attacking him, kicking at him as he lay on the ground; everywhere possible, his face, his chest, his sides, his legs," she said.
His wife Evelyn was punched, kicked and pushed back as she tried to help him, Ms Whittaker alleged.
Pregnant at the time of the incident, she claimed she was then grabbed and attacked herself.
On being told of her condition her alleged attacker replied "too bad", the court was told.
Her sister-in-law, Kelly Whittaker, also gave evidence about the events that day.
She claimed around 15 men arrived in the area.
Detailing the alleged attack on Mr Fleming, she told the court how she tried to get those involved to stop.
Following completion of all witness evidence , District Judge Desmond Perry adjourned the hearing.
He is due to sit again in the next stage of the hearing at Ballymena Magistrates Court on 16 January.
All of the defendants were released on continuing bail.