New Years list NI: 80 honoured by Queen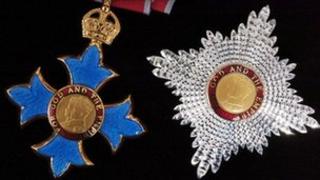 Eighty people in Northern Ireland have been named in the Queen's New Year Honours list.
More women than men have been honoured in Northern Ireland for the first time on record.
Four serving members of the Police Service of Northern Ireland received honours.
Honours are given twice a year - at New Year, and on the Queen's official birthday in June.
Order of Saint Michael and Saint George
Companion of the Order of Saint Michael and Saint George - Mr Laurent Robert Beaudoin, chairman, Bombardier Inc., Montreal Canada. For services to British Industry, particularly in Northern Ireland.
Commanders of the Order of the British Empire - CBE
Mr James Trevor Haslett, former chief executive, NI Water and Prof Patrick John Morrison Queen's University Belfast.
Order of the British Empire - OBE
Mrs Margaret Boden, Mr Edwin Alexander Dunlop, Dr Margaret du Feu, Mr William James Halliday, Maire, Fionnuala Kerr, Dr Ernest Fergus Logan, Mrs Mary Macintyre, Mrs Pauline Christina McCabe, Professor Mary Kathrine McColgan, Mr Nigel McIlwaine, Mr Robert John McLean, Mrs Pauline Shields, Dr Daniel Todd, Prof James Henry McAdam.
Members of the British Empire - MBE
Mr Samuel James Bailie, Alderman Charles James Brown, Mrs Kathleen Patricia Burns, Mr Edward George Campbell, Mrs Joan Patricia Carberry, Mr Edmund Patrick Gerard Cochrane, Mr Robert Sidney Colhoun, Miss Joan Elaine Walters Cuthbert, Mrs Joan Aileen Doherty, Ms Edyth Dunlop, Mrs Kathleen Ferguson, Mr Nigel Robert Finch, Dr Claire Anne Gilligan, Mrs Catherine Glass, Mr John Richard Hadden, Mr William Andrew John Hassard, Mrs Ann Hayes, Mr Richard Hill, Mr Martin David Howell, Mr Timothy Edward Husbands, Mrs Rosemary Julie Jordan, Dr Davinder Kumar Kupar, Mr Joseph David McAree, Mrs Faye Ann McLeod, Mrs Patricia Ann McQuillan, Ms Anna Moss, Mrs Pauline Mulholland, Mr John McAdam Niven, Mrs Mary Patricia O'Kane, Mr William Ronald Oldcroft, Mrs Diane Rathfield, Mr John Stanley Smith, Mr George Stevenson, Mrs Margaret Maureen Johnston Weir.
British Empire Medal - BEM
Mrs Barbara Blair, Mrs Maureen Jacqueline Brachi, Ms Hazel Cameron, Mrs Karen Elizabeth Jean Carson, Mr Derek Henry Catney, Mr Simon Wright Clarke, Mrs Irene Margaret Cumming, Mrs Blanche Curran, Mrs Margaret Deering, Mr John Doherty, Miss Geraldine Duggan, Mrs Kathleen Veronica Elliott, Miss Hazel Eleanor Flannigan, Mrs Lynda Catherine Hill, Mrs Edna Florence Howard, Mr Thomas William Livingstone, Mr Robert Rollins Mayne, Mr John Meikleham, Mrs Ruth Montgomery, Mrs Mary Elizabeth Patricia Morrison, Mr James Derek Neill, Dr Albert Victor Eric Robinson, Mr Gordon Speers, Miss Ruth Hilda Trueman, Miss Gillian Elizabeth Webb.
Queen's Police Medal - QPM
Mr Alan Kenneth Little, Mr Gary Stephen McClure, Mr Jeffrey Carson McCready.