Michelle O'Neill will not challenge legal judgement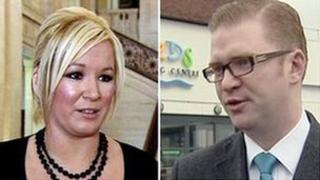 Agriculture Minister Michelle O'Neill has decided not to challenge a High Court judgement forcing her to seek approval from fellow executive ministers over how she distributes a new round of European funding.
Finance Minister Simon Hamilton took legal action to prevent Ms O'Neill going ahead with her own distribution plan.
The disagreement at Stormont ended up in the High Court over the Christmas period.
Mr Hamilton tried to stop Ms O'Neill distributing more than £100m of European funding over six years without consulting the executive first on exactly where it was going.
The High Court ruled in his favour on Friday.
During the all-day hearing, Lord Chief Justice Sir Declan Morgan said it was "a case about political failure".
Ms O'Neill wanted to transfer 7% of Common Agricultural Policy funding to rural development projects.
'Significant and controversial'
The Department of Agriculture and Rural Development (DARD) confirmed on Sunday night it will not be challenging the decision of the High Court.
A spokesperson for the department said: "This matter will now go to the executive for consideration and agreement.
"It is the minister's clear view that a transfer of 7% is necessary and it is therefore of vital importance that the executive agrees this view to meet the appropriate deadline set by DEFRA and the European Commission.
"Any delay now could mean we miss the deadline, potentially reducing funding for rural job creation through agri-food growth and schemes for smaller hill farmers."
The Department of Finance and Personnel (DFP) explained why it took legal action.
A spokesperson said: "This was a significant and controversial issue which should have been brought to the executive.
"It was the DFP minister's view that the DARD minister was therefore acting in breach of the Ministerial Code - that has now been proven through the court."
As for the cost of the court case, the Department of Finance says the figure has yet to be determined.
Northern Ireland receives around £300m a year in agricultural subsidies from the EU. Each region can decide to earmark as much as 15% of the funding for environmental and rural development projects.
Traditionally, the farming community pushes for as much money as possible to be allocated to direct payments to farmers.
England has announced it will transfer 12%, Scotland 9.5% and Wales 15% to rural development projects.