Some Northern Ireland parties hold more Haass talks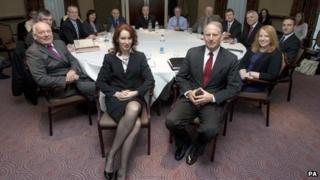 Talks to resolve contentious issues in Northern Ireland are "80 to 90% over the line", Ulster Unionist leader Mike Nesbitt has said.
Delegations from some of the Northern Ireland Executive parties continued talks about the past, parades and flags on Sunday.
The DUP did not take part as it does not negotiate on Sundays.
Talks between all five parties and former US diplomat Dr Richard Haass ended on Saturday without agreement.
The parties will meet again from 10:00 GMT on Monday.
"I would say 80, maybe even 90% of it, is ready to go over the line," Mr Nesbitt said.
"So there's not a lot left, but what is left is serious from our point of view."
'Humiliation'
Sinn Féin's Martin McGuinness said that Dr Haass and his co-chair, Prof Meghan O'Sullivan, must not be allowed to return to the United States without securing a deal.
"It would be a humiliation if Richard Haass and Meghan O'Sullivan left here tomorrow against the backdrop of no agreement," he said.
The Alliance Party and the SDLP also urged the other parties to make a deal in time for Monday's deadline.
The DUP met with Dr Haass on Saturday night.
The party's Jeffrey Donaldson said he hoped a deal could be reached before Monday's deadline.
"There are a number of significant issues that need to be resolved, particularly on parades and dealing with the past and so we're determined to try and close the gap if we can," Mr Donaldson said.
A spokesperson for the US National Security Council said the talks were at a critical juncture and the goal remained to achieve agreement before the end of the year.
"We call upon the leadership of the five parties to make the compromises necessary to conclude an agreement now, one that would help heal the divisions that continue to stand between the people of Northern Ireland and the future they deserve," she said.
'Final effort'
Dr Haass returned to Belfast on Saturday after efforts to reach a deal before Christmas had failed.
He said he was back "for one final effort to help reach agreement".
Dr Haass and Prof O'Sullivan are due to leave Northern Ireland before the new year.
Before Saturday's round-table talks began, Peter Robinson, Northern Ireland's first minister and leader of the DUP, said some elements of the proposals were "unworkable".
He said: "There's a large part of the document I could readily bring to the party, there are other elements that render the rest unworkable."
'Fish or cut bait'
Prior to Saturday's six-hour meeting Prof O'Sullivan had said: "By Monday we will know whether an agreement is to be had or not."
Dr Haass said the talks were "a final opportunity to come together in an agreement that we believe could and would change Northern Ireland for the better, both for individuals and for society writ large.
"We hope this opportunity is seized, as time does not work in anyone's favour.
"The last year has shown that flags and parades have the potential to further inflame an already divided society.
"Time also works against the ability to capture the past, as memory fades, as evidence is lost and lives end."
Asked if this was his final effort, Dr Haass used an American phrase: "You either fish or you cut bait." He said that time had come.
'Missing ingredient'
Dr Haass and Prof O'Sullivan were brought to Northern Ireland in July by the first and deputy first ministers.
They returned to the US for Christmas after talks broke up without agreement in the early hours on Christmas Eve.
The parties were given a fifth draft of proposals from Dr Haass and Prof O'Sullivan on Friday night.