Power line collapses onto Mayobridge home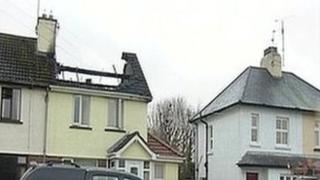 Strong winds caused an electricity pole to break and power lines to come down across the roof of a house in County Down on Thursday night.
It happened in St Annes Terrace, Mayobridge, at around 22:00 GMT.
Extensive damage was caused to one house and a neighbouring home also caught fire.
Two families were taken to Daisyhill Hospital in Newry for treatment. No-one was believed to be seriously injured.
A minibus parked nearby was also damaged after a large tree fell on to the roof.
SDLP MLA for South Down, Karen McKevitt, said: "The damage is extensive but we're here this morning. We're just about to meet the families and we can get them rehoused and we can rebuild a home.
"Yes, it's a serious incident where a pylon has come down, but there has been great community spirit around Mayobridge last night and this morning."