Gerry Adams: Agreement in Haass talks possible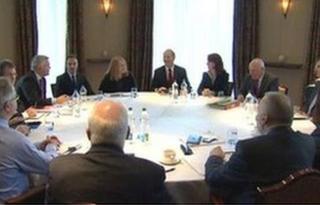 Sinn Féin president Gerry Adams has said agreement is possible when the Haass talks resume on Saturday.
Talks chairman Dr Richard Haass and his co-chair Meghan O'Sullivan returned to the United States after talks broke up without agreement on Christmas Eve.
They return on Saturday and hope to find a consensus on parades, flags and dealing with the past by the end of the year.
Mr Adams said "progress was made and agreement is possible".
He added: "Many people will be disappointed that the all-party talks broke up without agreement for Christmas. Sinn Féin shares that disappointment.
'Fair wind'
"Our delegation told the last plenary (meeting) in the early hours of Christmas Eve that we believed there was the basis for an agreement on the mechanisms proposed to deal with the three issues under consideration.
"We would like to see some of these strengthened and have made a number of suggestions on how this can be achieved.
"As the New Year approaches there is a duty and responsibility on all the parties to these negotiations, despite the challenges, to find a way forward.
"With a fair wind the proposals under consideration can do this and I would appeal to everyone to overcome any difficulties which may remain.
"That is what the greater majority of our people expect."
'Pledge'
Ulster Unionist Party leader Mike Nesbitt said his party "accepts the ongoing challenge of seeking a fair and agreed outcome to the Haass talks".
He added: "In our opinion, the test of any proposal is whether it represents doing what's right for Northern Ireland, and that will be measured in whether it is fair to all our citizens and advances society in a manner that does not disrespect the rights and needs of victims and survivors, nor disregards the rule of law.
"As one of five parties to this process, we cannot guarantee agreement, but we can and do pledge to do all we can, as we did to bring about the Belfast/Good Friday Agreement in 1998."
After talks broke up on Tuesday, Dr Haass said: "Let me be clear about this, we don't have an agreement. (But) in no way have we given up on the possibility of still reaching agreement before the end of the year.
"We are not going to be able to put it under anyone's Christmas tree, but again, we still have a week (before the 31 December deadline)."
Dr Haass and Harvard professor Dr O'Sullivan were brought to Northern Ireland in July by the first and deputy first ministers, with an aim of finding consensus on the displaying of national flags, the holding of parades and how to come to terms with the violence of the past.