Haass to return to host more NI talks on Saturday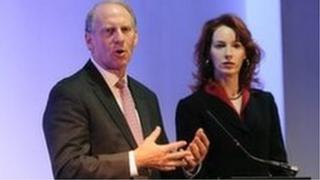 Former United States diplomat Richard Haass and Meghan O'Sullivan are to return to Belfast to host bi-lateral talks around flags, parades and the past on Saturday 28 December.
They hope to find consensus on some of Northern Ireland's most contentious issues by the end of 2013.
Northern Ireland parties held talks throughout last Monday night.
However, they failed to agree on all the issues and talks broke up at 04:00 GMT on Christmas Eve.
Dr Haass and his vice chair, Dr O'Sullivan, returned to the United States for Christmas.
At that stage, he said he would send questions - it was thought that if the replies were positive he would return to Belfast and work on preparing another draft for Northern Ireland's five main parties to discuss.
Speaking at 04:00 GMT on Tuesday, he said: "The work done politically and intellectually on contending the past is truly significant.
"I think also there has been important work done on the question of parading.
"Yes, it's true that the work done on flags is quite disappointing by any measure but the other two areas, are I believe, quite impressive. I believe it would be a real shame not to turn that work into a reality.
"Let me be clear about this, we don't have an agreement. (But) in no way have we given up on the possibility of still reaching agreement before the end of the year.
"We are not going to be able to put it under anyone's Christmas tree, but again, we still have a week (before the 31 December deadline)."
Dr Haass and Harvard professor Dr O'Sullivan were brought to Northern Ireland in July by the first and deputy first ministers, with an aim of finding consensus on the displaying of national flags, the holding of parades and how to come to terms with the violence of the past.
A fortnight of increasingly intense negotiations culminated in Monday's all-night session.
Party reaction
Naomi Long, MP, Alliance:
"It is clear the public expect and desire a resolution. The next few days are our last chance in this process to deliver for them."
Tom Elliott, MLA, UUP:
"The Ulster Unionist Party will play its full role over the weekend, but there are obstacles to overcome."
Alex Atwood, MLA, SDLP:
"We believe that a New Year's Eve agreement can be a watershed for the past and politics.
"The differences on the comprehensive addressing of the past is narrowing but hard work is still needed on parades.
"Dublin has increasingly shown its authority in this process. It is London that remains detached and distant. This needs to be turned around if our past is to be faced up to."