Gale force winds disrupt travel across Northern Ireland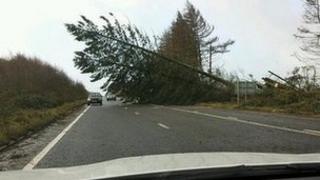 Gale force winds are causing travel disruption across Northern Ireland.
Two flights were diverted from George Best Belfast City airport to Belfast International airport at Aldergrove.
Easyjet's operating agent Menzies temporarily cancelled all air operations from Aldergrove but began flying once wind speeds dropped below 40 knots.
The Foyle bridge remains closed to high vehicles. A 30 mph speed limit has been imposed for all other vehicles.
Fallen trees have blocked roads and police have advised motorists to exercise caution when driving.