Gale and hurricane wind warning issued throughout Ireland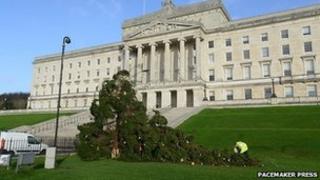 The Met Office has warned of strong winds across Northern Ireland for Friday.
Gusts could reach speeds of 70 mph (115 km/h) along the Down and Antrim coasts by midnight as another storm moves in from the Atlantic.
A series of winter storms during December resulted in power cuts and damage to buildings and trees.
The 'Yellow' warning means 'to be aware of possible disruption' caused by strong winds.
Gale force winds are expected to ease by Saturday.
A yellow warning has also been issued for heavy rain as a weather front moves across Northern Ireland.
Up to an inch of rainfall (25 mm) could fall in some places across Northern Ireland which could lead to flooding in some areas.
Hurricane force
The Republic of Ireland's weather service, Met Éireann, has issued a 'Red' alert for parts of the country.
Winds of more than 90 mph (150 km/h) are expected in some coastal areas.
According to the Beaufort scale, which is the accepted standard for wind measurement, winds of this speed are classified hurricane force.
The counties predicted to be worst affected are Waterford, Wexford, Kerry, Clare, Galway and Mayo.
In other parts of the United Kingdom the strongest winds are expected across parts of Wales and northern England where an 'Amber' warning has been issued - meaning to 'be prepared for disruption'.
The storm has been caused by another deep area of low pressure now developing over the Atlantic.