Armagh: Pilot and passenger injured as plane crash-lands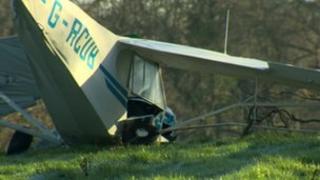 A pilot and his passenger were taken to hospital after their plane crash-landed in Armagh on Christmas Day.
The light plane came down in a field near an airstrip at Mullahead Road, Tandragee, at about 16:00 GMT on Wednesday.
Police and the emergency services went to the scene.
One man was treated in intensive care in Craigavon Area Hospital. His condition was described as stable on Thursday.
A spokesperson for the Southern Trust said he was being transferred to another hospital.
The condition of the second man is unclear.