Rescue dogs enjoy G8 treatment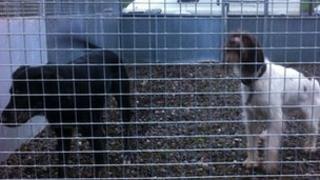 Rescue dogs in County Tyrone are being sheltered in kennels used for presidential guard duty.
They housed police dogs that carried out security searches and public order duties during the G8 summit at Lough Erne in County Fermanagh in June.
After the two-day meeting of world leaders, the pens became surplus to requirements.
Police donated them to Grovehill animal shelter near Omagh - a gift that was received with delight.
"They're really good, they are proper professional dog runs," said shelter coordinator for Grovehill Animal Trust Richard Robinson.
"They'll hold up to two to three dogs at one time. We've got two of them and kennels as well which are really dry and secure for the dogs to go in, so it's brilliant.
"It's great to get something that was being used and that we've been able to benefit from the G8, it's been great."
Chief Inspector Graham Dodds said: "Grovehill do a tremendous job and we were keen to help them out. Their work in animal welfare is vital and the PSNI support them in whatever way we can, especially at this time of the year."
Over the past 15 years, Grovehill Animal Shelter has re-homed more than 10,000 animals.
New home
The charity itself faced homelessness earlier this year when the lease on its base near Seskinore came to an end.
It has now secured a new home and, in recent weeks, the rescue dogs and cats have been settling in to their new surroundings near Sixmilecross.
The charity has also been given pens by the USPCA and received a donation of a new van to transport animals.
The new site will be open to the public and Grovehill also has plans for an education facility to raise awareness of animal welfare.
In the past year, the charity saved 600 animals and Mr Robinson said their new larger site will allow them to do more.
"Once we open to the public here, we're hoping our turnaround will be a lot faster, therefore saving a lot more animals."
Peak pup period
While stray cats and pound dogs make up the majority of animals, Grovehill is also asked to find new homes or provide veterinary treatment for other animals.
Over the last 12 months, these included pigs, snakes, a ferret, rabbits, hamsters, horses, doves and pigeons.
The start of the year is their busiest time.
"January is very busy with unsold pups for the Christmas market that breeders can't sell for whatever reason. They come to us in January," Mr Robinson said.
"February/March time is when we get the puppies starting to grow, chewing things and the reality kicks in of looking after the new puppy, that's when we get them.
"The demand is very high, as well as the strays and the pound dogs too, so after Christmas is always a crazy time for us so it's good that we're in now, settled ready for the rush.
"The reality is the pounds are full every week and we're the only charity that goes in to take them.
"They fill up every week, which is 10 dogs, and if we weren't here those dogs would unfortunately be put to sleep."