Haass talks: Reaction after failing to reach agreement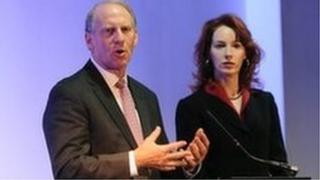 Northern Ireland's political parties have been giving their reactions after they failed to come to a deal in overnight talks on flags, parading and the past.
The negotiations at Stormont are being chaired by the former United States diplomat, Richard Haass.
Dr Haass is returning to the United States for Christmas. He will now send revised proposals to the five parties.
He said he would assess the response to his new suggestions before deciding whether to return for fresh negotiations before the end of the year.
Jeffrey Donaldson, DUP
"I think everyone is disappointed that we're not having an agreement at this stage, but we have to be realistic.
"There remain significant issues of difference across all three areas that were under negotiation.
"I think with further effort, we are capable of closing the gap but it just didn't happen tonight."
Gerry Kelly, Sinn Féin
"People will be more disappointed if we cannot bring this to some sort of conclusion in the few days.
"We came to do a deal, I think we could have done it, but we didn't manage to do it.
"Richard Haass says he may come back, we'll see what happens."
Mike Nesbitt, UUP party leader
"We didn't get there tonight but we think we did get real in terms of better understanding of where everybody's bottom line is, and why they're taking the positions they're taking, so I remain optimistic.
"There's a lot that, I think, we can get over the line over the next few days and by next Tuesday, who knows? Maybe we'll have an agreement."
Alex Attwood, SDLP
"We said to Richard Haass and Meghan O'Sullivan [have] a safe home over the Atlantic and we'll see you next weekend back in Belfast, because whilst we haven't got a Christmas Eve deal, we can still achieve a New Year's Eve deal and that's the purpose of the next week."
Naomi Long, Alliance party
"If we're going to transform Northern Ireland it is not going to be easy, it is going to be about fundamental issues.
"Tonight, possibly for one of the first points in this process, we have been talking about those fundamental issues.
"People now need to go away and reflect on what they heard and what they said and on their own position, and they need to reflect on that in light of the expectations that exist in our community."
Theresa Villiers, NI Secretary of State
"I'd like to thank Dr Haass and all the participants in the working group on flags, parades and the past.
"I hope that work can continue after Christmas to see if an agreement can be reached on these difficult issues.
"In the many conversations I have had with party leaders and others over recent days, I have been impressed by the commitment they have shown and the willingness to consider the point of view of others.
"The UK Government will continue to support the efforts made by the Northern Ireland parties as they seek a way forward."
Ivan Lewis, Shadow Secretary of State
"The lack of an agreement before Christmas is clearly disappointing.
"The priority now is for all Northern Ireland's political leaders to demonstrate their continued commitment to this process by asking Richard Haass and Meghan O'Sullivan to return at the earliest opportunity.
"Now is also the time for the UK and Irish Governments to step up to the plate and use their influence to help put the process back on track.
"The Haass talks offer the best hope for dealing with contentious issues such as the past, parades and flags which continue to be obstacles to the development of a shared future for Northern Ireland.
"The vast majority of people in Northern Ireland want to see progress on these issues.
"That will require politicians to show the leadership which is necessary to balance strong convictions with difficult but necessary compromises."