Haass and Northern Ireland parties holding talks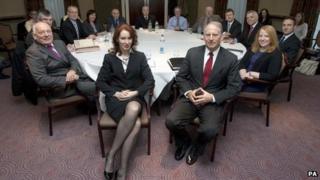 Richard Haass is holding talks with Northern Ireland's five main parties to try to reach agreement on proposals on dealing with the past and parades.
The parties spent the day studying the proposals from the former US diplomat.
Dr Haass and Harvard professor Meghan O'Sullivan were brought to Northern Ireland in July by the first and deputy first ministers.
They aim to find consensus on flags, parades and the past by the end of the year.
The flags issue has now been shelved because the parties could not agree.
Speaking to reporters on the way in, Dr Haass said: "We continue to have the goal we've always had, to press ahead for an agreement.
"It's going to be an interesting evening."
The timetable for the talks was revised for a second time on Monday.
Originally, a round-table session had been scheduled for 11:00 GMT, however, it was later shifted to 18:00 GMT then to 20:00 GMT.
The delays on Monday appear to reflect the difficulties facing Dr Haass and his co-chair, Dr O'Sullivan, in bridging the gaps between the parties.
The details of the latest draft on the past are not yet clear, but some unionist sources expressed concerns about the power apparently being given to a new Historic Investigations Unit to compel witnesses to give evidence.
Immunity
Previously retired police officers have opposed similar powers being handed to the Police Ombudsman.
However, a senior nationalist source argued that any such power would be balanced by the ability of a proposed truth retrieval body to grant limited immunity on any evidence it gathers.
On Monday afternoon, Dr Haass took to Twitter to say his team was "still hard at it".
He added that it was difficult to imagine a better Christmas present for one and all.
Dr Haass, a former US diplomat, gave the parties a third draft document on Sunday.
The new, 30-page document recommends a separate process to deal with flags, as the parties could not reach consensus on the issue.
Unionists had rejected a previous draft because of concerns about flags.
Their objections had centred on the suggestion of a licensing scheme that would have meant permits being issued for the flying of flags on the streets.
Northern Ireland Secretary Theresa Villiers said there was a "remarkable amount of optimism" among political leaders trying to reach a settlement.
"I've had a series of conversations with party leaders over the course of the day," she said.
"There still seems to be a remarkable amount of optimism, but the reality is that these issues are extremely difficult to resolve, but I welcome the efforts that are being made by the political parties in Northern Ireland to try to make progress."
DUP MP Jeffrey Donaldson said some progress had been made but, "realistically, it's going to be a challenge to get agreement before close of play".
"I would hope that even today, it might still be possible to reach agreement, at least on parades and dealing with the past and agreement on how we move forward on the other issues," he said.
Mr Donaldson said Dr Haass had indicated that if agreement was not reached before Christmas, talks would resume on 27 and 28 December.
'Go home'
Meanwhile, Ulster Unionist MLA Michael Copeland has apologised for saying that Dr Haass should "go home and leave us who live here to mend our ways".
Mr Copeland was speaking at a loyalist rally in north Belfast at the weekend.
Mr Copeland made the remarks as he criticised Dr Haass' proposal to license the flying of flags.
In a statement on Monday, the UUP MLA said: "I deeply regret any offence taken by anyone following my comments at the weekend, for none was intended."
Mr Copeland said he had spoken "as I always do from the heart" but added that he "intended no disrespect to Mr Haass".
"I fully support the efforts of my party leader and the others involved in this process," Mr Copeland said.
Politicians have been providing feedback on the proposals to Dr Haass and his team, and a revised version will form the basis for Monday's round-table talks.
Plans for councils to carry out an audit on what memorials they have on their premises has also been removed from the latest round of the diplomat's proposals.