Prawn quota cut criticised by Northern Ireland fishermen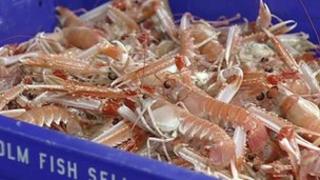 Northern Ireland's prawn fishermen have said they are not happy with the deal reached on the European Fishing Policy.
The agreement, which sets limits for fishing in European waters, will come into force on 1 January 2014.
European ministers have adopted a more conservationist spirit within the agreement, designed to secure fishing stocks for future generations.
However, there are fears that a prawn quota cut could cause problems for Northern Ireland's fishing industry.
'Major disappointment'
Alan McCulla, chief executive of the Northern Ireland Fish Producers Association, said that a lot of changes have been made already in recent years to make sure that the industry complies with sustainability rules.
"The commissioner singled out prawns in the Irish sea, and in particular fishermen from Northern Ireland for applause for delivering upon commitments that we made two years ago to modify our gear so that we could create sustainable fisheries," he said.
However, with the majority of fishing fleets in Northern Ireland focussed on prawn catches, Mr McCulla said it is a disappointment that quotas were still reduced in this round of regulations.
"Having had that nice slap on the back and words of congratulations, it has then come as a major disappointment when the Fisheries Council deliver a cut on what is our main fishery," he added.