A year of weather extremes for Northern Ireland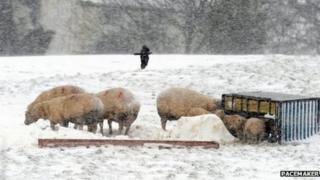 It has been a remarkable year for Northern Ireland weather.
We endured the coldest spring for more than three decades, we finally enjoyed a barbecue summer, and winter storms battered the coast.
Winter hit hard in mid-January when snow led to power cuts for thousands, it delayed and cancelled flights and provided the first big test of winter for gritters.
Speaking on the day the snow hit, Colin Sykes from the Roads Service said: "We've had more than 300 staff and 132 gritters on standby.
"We have been gritting all this morning and today, and we expect to grit all through this evening and night."
The bigger snow event hit two months later in March which, incidentally, was the coldest March in 50 years.
It provided postcard scenery and lots of fun, but it also caused devastation for sheep and cattle farmers who lost thousands of animals to the elements.
Army helicopters were drafted in to deliver food to livestock.
"Farmers are nothing if not resilient and with the help of the government's fallen stock and fodder transport schemes many began to rebuild their businesses," Harry Sinclair, president of the Ulster Farmer's Union said.
"Fortunately, the weather for the rest of 2013 was much kinder to farmers. The good summer weather and mild autumn/winter has meant that harvests have been good, fodder stocks replenished, slurry spread and livestock were out in many fields well into November.
"For the most part farmers are ending 2013 on a high and are hoping that 2014 brings with it good weather."
Emergency services were also used to deliver food and medical supplies to homes in the countryside that were cut-off by the snow.
"We've had people who haven't been able to get their medication, so we've been arranging to have that delivered," PSNI officer Alison Ferguson said in March.
"We've also used the helicopters in the most inaccessible areas to try to get supplies to those homes."
Mediterranean temperatures
It was in July that the weather went from one extreme to another, with the summer heat-wave most people had been waiting for.
For two weeks we basked in temperatures normally recorded around the Mediterranean.
At one point, temperatures soared to 30.1C - that is just below the all-time record high of 30.8C set at Shaws Bridge in Belfast on 12 July 1983.
"We come from the south of Italy," one visitor enjoying the sunshine in Belfast's Botanic Gardens said. "It's usually very warm like here now, it's great."
The warm spell lasted for more than two weeks, putting many European hot-spots in the shade. But the heat sparked thunderstorms which caused flooding for some.
"I heard noise coming from the front door and lo and behold the water was coming in the front and coming in the back," Sandra McCloy, whose home was affected, said.
"It got deeper and deeper - it was incredible. Within the space of a few minutes it was flooded all over the house."
Several months passed before the winter storms struck in December.
Winds with gusts more than 80 miles per hour battered the coast. They brought down power lines and trees and caused damage to buildings.
In west Belfast, part of a shop collapsed on the Grosvenor Road.
"It sounded like a car going into the wall," said shop worker Theresa McAllister. "I'm still shocked, I haven't stopped shaking. I can't believe it."
The extremes in the weather during the year caused health concerns and challenges for some agencies in Northern Ireland.
Dr Anne Wilson from the Public Health Agency said: "With many homes left without electricity and some people cut off by snow drifts, this raised many public health issues, such as the need to keep warm and the increased risk of carbon monoxide poisoning due to faulty boilers or chimneys and flues being blocked.
"Soon afterwards, we were hit with a summer heat wave. In Northern Ireland we are not used to high temperatures and this meant many people were not prepared. We offered advice on reducing the risk of skin cancer by covering up and using sun cream, and urged people to keep hydrated and stay cool.
"Now we are in winter, other public health issues come to the fore, such as helping people to look after their mental health. During the dark, cold winter months, we can become sedentary and isolated, so the PHA encourages people to keep active, socialise, and talk to someone if they are feeling down."
Questions now surround the weather of 2014 and what it'll bring.
Unfortunately it is quite simply impossible to predict so far in advance.