Teenagers face south Armagh explosives charges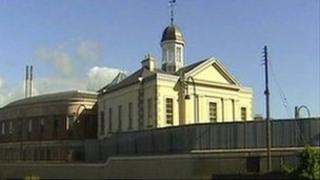 Two people have been in court charged over explosives found by police in south Armagh.
Appearing at Newry Magistrates Court were Keith McConnan, 19, and Orla O'Hanlon, 18, both of Tievecrom Road, Forkhill.
Both are accused of making and possessing explosives with intent to endanger life or property between 15 December and 18 December this year.
No applications for bail were made and both were remanded in custody.
A detective constable told the court the pair were arrested at a house on Tievecrom Road on Wednesday, 18 December.
He said that while Mr McConnan was being taken to Antrim police station, officers found a latex glove in his hip pocket.
"A search was carried out of the property and a box of latex gloves was also found,'' the detective said.
Timer power unit
He told the court that in a walk-in wardrobe in a bedroom officers found a timer power unit and items related to it.
"This would enable a bomb to be placed which could delay the detonation for several days,'' the officer said.
The detective added that in a bin, a white substance was discovered that was forensically tested and found to be ammonium nitrate, which he said is used for home made explosives.
He said it appeared there had been an attempt at a clear-up operation as similar white powder was found in a vacuum cleaner in the hallway, although it had yet to be forensically tested.
Industrial coffee grinder
In another bedroom, the court heard, police also found a three feet tall industrial coffee grinder.
"There was fine powder both inside and outside the grinder. This had the capacity to grind down 20kg of home made explosives per hour,'' the detective said.
The detective said that during 13 interviews, Mr McConnan made no replies to questions from police.
He gave a prepared statement in which he said the latex glove found in his hip pocket had been worn when he was putting oil into his oil tank.
However, the officer said a receipt was found for the oil dating back to 28 November, saying it was unlikely he was filling the oil tank on the day of his arrest.
The officer also told the court that during initial interviews Ms O'Hanlon spoke openly to detectives about family and home life.
However, when she was asked about the items recovered in the house, she refused to comment, except to say that the industrial coffee grinder was used to grind down flour.
The judge remanded both of the accused in custody to Hydebank Wood Young Offenders Centre in south Belfast.
They are due back in Newry Magistrates Court via video link on 8 January, 2014.