Investigation begins after dead horses found near Clogher, County Tyrone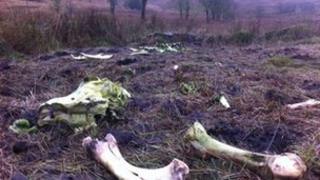 An investigation is under way after the remains of up to 15 horses were found near Clogher, County Tyrone.
On Wednesday, the remains of at least five horses were discovered in a remote bog and stream on the border between County Tyrone and County Monaghan.
Since then a number of live horses have been seized by animal welfare officers working for Dungannon and South Tyrone Borough Council.
Some were removed last month, the rest off the mountain on Thursday.
Under the Welfare of Animals Act 2011, councils have responsibility for the enforcement of powers in respect of non-farmed animals including horses.
It is not known who owns the horses, how they died or how long the bodies have lain there.