NI state papers: SDLP dubbed an 'ageing party' in 1983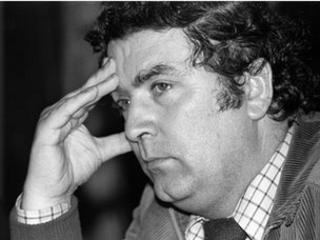 Problems facing the Social Democratic and Labour Party (SDLP) on the eve of the 1983 general election sounded alarm bells in government, newly released state papers have revealed.
The details have come to light in a documents from the Northern Ireland Office (NIO), whose officials were in close touch with SDLP representatives.
In a memo on the fortunes of John Hume's party, dated 13 May 1983, R S Reeve of the NIO's political affairs bureau noted the decline of the party since 1974 when it won 150,000 votes, or 80%, of the total nationalist vote.
The IRA hunger strike of 1981, he noted, had witnessed a further decline in the SDLP vote.
Difficulties
Mr Reeve's memo for Northern Ireland Secretary of State, Jim Prior, said: "The SDLP are by no means out of the woods."
Referring to their "shaky constituency organisation" and lack of funds, he added: "The (New Ireland) Forum has so far failed to make a major impact and John Hume will find it hard to convince the electorate that a "talking-shop" in Dublin will reduce NI's current difficulties.
"By comparison with the Sinn Féin team, the SDLP are seen as rather middle-class, middle-aged and out of touch with the community," Mr Reeve wrote.
"Men like Joe Hendron (the later SDLP MP for West Belfast) will have to fit in their electioneering with busy professional commitments - a difficulty which is hardly faced by their opponents in Sinn Féin. It is hard to escape the fact that the SDLP are fighting a defensive campaign... and are unlikely to make any new converts," the memo stated.
On Sinn Féin's electoral prospects, the same official felt that there was "sufficient hardline nationalist support in Northern Ireland for Sinn Féin to increase both their total vote and their share".
In Mr Reeve's view, it would take "a fairly dramatic collapse of SDLP support for Sinn Féin to win more than half of the nationalist vote, but they could increase their share from one third to 40%".
He predicted that Sinn Féin would take the West Belfast seat, then held by the independent and former SDLP leader, Gerry Fitt and "this would be a major psychological boost to them".