Judith Gillespie, NI's most senior policewoman, to retire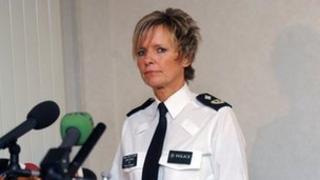 Northern Ireland's most senior policewoman is to retire.
Judith Gillespie, who has been the Deputy Chief Constable of the Police Service of Northern Ireland since 2009, is to leave her post in March.
She told colleagues of her decision in an email on Friday morning.
In February 2011, she declined a £500,000 payout to retire under the Patten programme, designed to reduce the number of officers in the force.
Ms Gillespie, who is originally from north Belfast, has been a police officer for more than 30 years.
She joined the Royal Ulster Constabulary (RUC), which preceded the PSNI, in 1982
In 2004, she became the first woman to be appointed a Chief Officer (Assistant Chief Constable) in the history of Northern Ireland policing.
She received an OBE for public service in the Queen's Birthday Honours List in June 2009.
In a statement, a PSNI spokesperson said: "We can confirm that Deputy Chief Constable Judith Gillespie has today notified the Policing Board of her intention to retire from the Police Service of Northern Ireland on 31 March 2014.
"She has served as Deputy Chief Constable for the past four and a half years and has served a total of 32 years as both a member of the Royal Ulster Constabulary GC and PSNI.
"PSNI will not be making any further comment at this stage."