Hazel Stewart: Double killer faces fresh legal action over police pension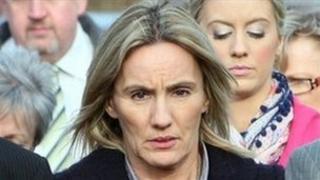 Double killer Hazel Stewart is facing legal action over the police pension she inherited from her murdered first husband, the High Court has heard.
The National Crime Agency has launched High Court proceedings against her in a bid to recover funds she received following the death of Trevor Buchanan.
She is in jail for the murders of Constable Buchanan and Lesley Howell, the wife of her ex-lover Colin Howell.
Stewart, 50, is serving a minimum 18-year jail sentence.
Both murder victims were found in a fume-filled garage in Castlerock, County Londonderry, in May 1991.
Confessed
Police originally believed they had died in a suicide pact after discovering their partners were having an affair.
But almost 20 years later, Stewart and her former lover Colin Howell were convicted of the double murder after Howell confessed to the killings.
The fresh civil action against Stewart, brought under proceeds of crime legislation, is understood to centre on finances that have since been tied up in her family home.
Stewart's second husband, retired police superintendent David Stewart, has been named as a joint respondent but there is no suggestion whatsoever of any wrongdoing on his part.
In the High Court in Belfast on Friday, a judge listed the contested case for a two-day trial next May.
The Stewarts' barrister told the judge that legal aid is still being sought.
He added: "It's not a case where there is an interim receiving order or a property freezing order."
Appeal
The move by the National Crime Agency comes as Stewart continues to prepare a second attempt to clear her name.
The former Sunday school teacher's legal team has sent her case to a body that examines potential miscarriages of justice.
They want the Criminal Cases Review Commission (CCRC) to refer her conviction for the murder of Lesley Howell back to the Court of Appeal.
Separate efforts are also being made to overturn a verdict that she killed her first husband as part of the same plot.
Her lawyers intend to introduce fresh psychiatric and psychological evidence.
They also want to raise disclosure issues connected to another potential witness.
The bodies of Constable Buchanan, 32, and 31-year-old Lesley Howell were arranged to make it look like they had taken their own lives in 1991.
Nearly two decades passed before dentist Howell, 54, suddenly confessed to both killings.
He pleaded guilty to the murders in 2010 and was ordered to serve at least 21 years behind bars.
Failed
Howell also implicated his former lover in the plot and gave evidence against her at her trial.
In March 2011, Stewart was unanimously convicted of both killings by a jury at Coleraine Crown Court.
Earlier this year the mother-of-two failed in her first attempt to overturn the verdict that she murdered Lesley Howell.
At that stage she did not proceed with a challenge to being found guilty of killing her husband.
The Court of Appeal held there was strong evidence that she was a knowing and willing participant in the plan hatched by Howell.
But lawyers now acting for Stewart have formally asked the CCRC to examine her case.
It could take up to two years before the body reaches a decision.
In the meantime, Stewart's legal team are also seeking to take her conviction for murdering Constable Buchanan back to the Court of Appeal.
She insists her challenge to that verdict was never abandoned. Nor was there ever any acceptance of guilt.