Airports ready for thousands over Christmas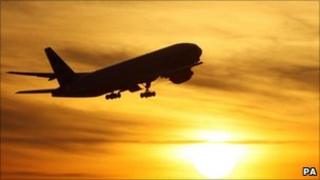 Northern Ireland's three airports are preparing for one of their busiest periods of the year.
Belfast International Airport is expecting more than 150,000 passengers through its doors over the festive season.
More than 100,000 are expected at George Best Belfast City Airport over Christmas and New Year.
City of Derry airport is preparing to cater for 14,000 passengers over the same period.
One of the busiest days for air travel is expected to be Monday 23 December, with approximately 12,000 people due to pass through Belfast International Airport.
As well as passengers, thousands of family members are expected to descend on the airport as they welcome their loved ones home for Christmas.
John Doran, managing director of Belfast International Airport, said they were expecting expecting about 60,000 passengers to use the airport in the few days before Christmas.
"While the airport has no scheduled flights on Christmas day we still remain open should there be a requirement for diversions or medical emergencies," he added.
"So as you can see there is no time to rest as just after Christmas the ski season kicks in and we will be expecting tens of thousands of passengers to be heading off to the slopes, jetting off for some winter sun or heading back home after the festivities.
"Our staff will be working extremely hard throughout the holiday period to keep Northern Ireland flying."
George Best Belfast City Airport said 2013 had been one of the busiest years in its 30-year history.
Passenger figures for the 12 months to the end of October were more than 2.5m; up 14.1% on the previous year, according to the Civil Aviation Authority (CAA).
Brian Ambrose, chief executive of George Best Belfast City Airport, said Christmas was the busiest time of the year.
"The atmosphere in the terminal is always fantastic with choirs from our adopted schools performing carols and extra staff on board to ensure the smoothest of journeys for all our passengers," he said.
"2013 has been a particularly busy year for Belfast City Airport with over 1.65m passengers being transported through the terminal in the summer months alone. This is an increase of nearly 22% on the same period last year.
"As Northern Ireland's sole link with London Heathrow, this route has been particularly strong and no doubt continue throughout the festive period, with passengers from across the world using the London hub to arrive home for Christmas."
Damien Tierney, managing director of City of Derry Airport said: "Our predicted figures this Christmas are encouraging, and we are experiencing similar figures to the festive 2012 period.
"In the run up to the festive period and to accommodate the busiest period for the airport, we advise all passengers to check security restrictions before arriving at the airport."
Northern Ireland's ferry terminals will also be packed with passengers in the run up to Christmas.
A spokeswoman for P&O Ferries said that as Christmas falls in midweek this year, it has helped to "spread the load", as people will travel from the end of this week right up until Christmas Eve.
The company is operating a reduced service at Larne port on Christmas Eve, with the last sailing departing at 16:30 GMT.
The next sailing is at 20:00 GMT on Boxing Day, and normal service resumes on 27 December.