Taking the donkey work out of life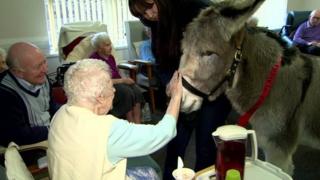 Nursing homes in County Antrim have been attracting an unusual breed of visitors in recent months - donkeys.
The visits have become a form of therapy, with the animals used to cheer up residents and encourage positive thinking.
Bringing a donkey indoors can be problematic, especially after it has just had its lunch.
In case of any "accidents", a large bucket is positioned towards the rear of the animal and it is moved with every step the donkey takes.
Fortunately, the bucket is seldom required.
One of the places visited by the donkeys is Clareview nursing home in Ballyclare.
Activity therapist Alannah Lynas said: "We find that the residents love having them around and stroking them. There are great therapeutic benefits.
"A lot of people here used to have horses and donkeys when they were younger, so it brings back good memories.
"It definitely cheers them up. In the run-up to them coming in, there's great excitement. It also provides a great talking point after they've gone."
The faces of many of the residents light up with smiles when they see the donkeys trot into the sitting room of the nursing home.
Vivien Hanna, 86, said: "It's wonderful that the donkeys are allowed inside. It's lovely to see them. It's always a great surprise."
The animals come from a donkey sanctuary in nearby Templepatrick.
It is currently caring for 17 animals that have been either injured or abandoned.
But is it fair to take them on day-trips to nursing homes?
The centre manager, Tina Symington, said: "The donkeys absolutely love it - we wouldn't do it if they didn't. That's first and foremost.
"They love interacting with people. They love the social side, but they are also very calm."
The sanctuary is run with the help of volunteers, many of whom linked up with the project through Volunteer Now, an organisation that works to promote and support volunteering across Northern Ireland.
The donkeys are used in therapy work with disabled children and adults, as well as the older generation.
TWITTER @BBCMarkSimpson