Former postmistress Margaret Johnston fails to have jail term reduced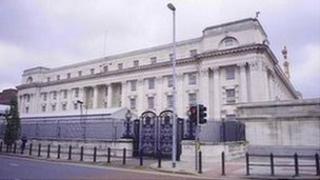 A former postmistress who stole more than £120,000 to cover her son's gambling debts has failed in a bid to have her jail term reduced.
Margaret Ruth Johnston, from Grove Gardens, Armagh, pleaded guilty earlier this year to charges of theft, fraud and false accounting.
She took the cash from a post office in the city over a seven-month period.
Appeal court judges rejected that her two year sentence, half of which was to be served in prison, was too heavy.
Lord Justice Higgins said she had already received a "generous" 30% discount having been caught red-handed.
The 60-year-old stole the money from the Barrack Street post office between November 2011 and May 2012.
She was caught and made a full disclosure after her employers sent in auditors to investigate the accounts.
The court heard how she started taking the money amid fears her son would be killed if he did not repay debts.
But the cash went to feed his gambling habit.
She has since used her £50,000 pension savings and put her home and business up for sale in a bid to pay back the stolen money.
Johnston's lawyers argued on Friday that the judge who imposed the two-year sentence at Craigavon Crown Court in November had got it wrong.
However, Lord Justice Higgins, sitting with Lord Chief Justice Sir Declan Morgan and Mr Justice Horner, held that the proper discount was applied for the guilty plea and mitigating circumstances.
He pointed to Johnston's position of trust as being an aggravating factor in the offence, where the range of available sentences is between three and five years.
"(The trial judge) discounted that by approximately 30% which, given the fact she was caught red-handed, was a generous approach," he said.
Dismissing the appeal, Lord Justice Higgins added: "We have concluded that it cannot be said that a sentence of two years for the theft of £120,000 is manifestly excessive."