NI state papers: British government feared 'Protestant brain drain'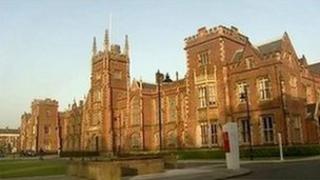 British fears of a Protestant 'brain drain' from Northern Ireland in the early 1980s found some support at a meeting between an NIO official and the Vice-Chancellor of Queen's University, Sir Peter Froggat in 1982, according to this year's Belfast releases.
This confirmed British government fears that the Protestant community was "opting out of Northern Ireland".
In a memo to ministers dated 5 April 5 1982, an official, W E Bell reported a discussion with the Vice-Chancellor, Sir Peter Froggat on the issue.
He asked the vice-chancellor for his view on the extent to which Northern Ireland was "exporting its brainpower" and if there were any difficulties in recruiting highly-qualified staff for university posts.
In reply, Dr Froggat said that the extent to which grammar school pupils opted for university education in Great Britain was now well documented.
This was partly the result of "free trade" - an incentive for the best qualified candidates to bid for places in leading English and Scottish universities.
"But", Sir Peter continued, "the tradition was now reinforced by a considerable exodus to other British universities, especially on the part of the Protestant community. This changing pattern had naturally some effect on Queen's University, the most notable being that the proportion of entrants from the (Catholic) minority had been increasing. The university did not provide denominational statistics, but could measure the trend."
The official noted that Dr Froggat's view confirmed the general view of "a near balance between entrants from the two communities with a very small proportion coming from outside Northern Ireland".
Mr Bell informed the Secretary of State, Jim Prior: "I regard this discussion as another step towards assessing quietly the extent to which the Protestant community is "opting out" of Northern Ireland."
He intended taking stock to consider what counter-measures might be contemplated.