David Cameron says hiring G8 summit hotel in Northern Ireland cost £1m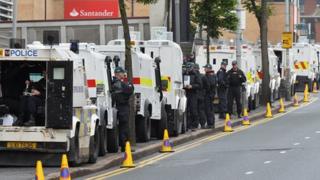 The cost of hiring the G8 summit in Fermanagh's Lough Erne Resort in June amounted to £1m, it has emerged.
The figure was revealed in Prime Minister David Cameron's breakdown of the total cost of hosting and securing the two-day summit.
In a written statement, Mr Cameron disclosed that the cost to hire the Lough Erne venue was £1m, with another £2.6m spent on security inside.
The summit brought together the leaders of the world's most powerful countries.
Mr Cameron described it as the "safest G8 summit in memory" with only two arrests amid various peaceful protests.
"This cost less in real terms than when the UK hosted the G8 summit at Gleneagles in 2005," he said.
The prime minister said the total cost of hosting and securing the G8 summit at Lough Erne was more than £80m.
Security costs
He said most of the cost was for security, £72m. A further £10m was spent on the event itself.
Mr Cameron said the summit ensured that Britain could show off its most westerly town, Enniskillen, to the world and demonstrate Northern Ireland as a "first-class destination for business and tourism".
When broken down, the security costs revealed a bill of £40.1m to the Police Service of Northern Ireland (PSNI) for the operation, which involved 5,000 of its own officers. The numbers were supplemented by 3,600 officers from police forces in the rest of the UK.
Forces from England, Wales and Scotland spent £28.6m on this mutual aid.
The PSNI received £26m from the Treasury reserve with the rest coming from the Northern Ireland Executive.
UK government departments paid for officers from other forces to take part in the security operation.
Specialist military support cost £2.5m, while £640,000 was allocated to national security costs.
The bill for production and media came to £2.6m, another £1.5m went on transport, and £1.3m on other summit costs.
The accommodation bill came in at £775,000, Mr Cameron said.
The summit costs of £10m will be divided among 12 Whitehall departments. The cost of the Pope's visit to Britain was covered in a similar way in 2010.