Omagh bomb: Two men have appeals dismissed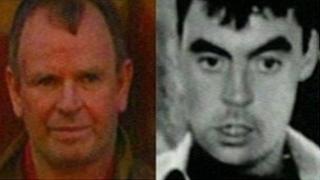 Two republicans found liable for the Omagh bombing have had their appeals dismissed by NI's highest court.
Colm Murphy and Seamus Daly were seeking to overturn a second verdict against them of being responsible for the Real IRA atrocity.
But the Court of Appeal in Belfast dismissed their challenges after rejecting all grounds of the appeal.
Twenty-nine people, including the mother of unborn twins, were killed in the August 1998 car bombing.
Hundreds more were badly injured.
Murphy, a Dundalk-based contractor and publican, and his former employee Seamus Daly, from Culaville, County Monaghan, were sued by some victims' relatives in a landmark legal action.
They faced a second trial after successfully appealing against being held liable in an initial ruling in 2009.
On Thursday, Lord Justice Girvan said adverse inference could be drawn from the failure by either man to give any evidence.
Murphy's claim that he did not testify due to his lack of faith in the judicial system was "entirely justifiably regarded as specious and wholly unconvincing", the judge said.
Dealing with Murphy's challenge to claims he supplied the phones used in the bomb run, Lord Justice Girvan also identified a series of factors against him.
Daly's appeal had focused on evidence relating to a phone call made less than half an hour after the blast.
Lord Justice Girvan rejected a contention by Daly's lawyers that the evidence did not implicate their client.
A further ground of appeal by Daly, centring on claims that the trial judge's verdict betrayed a "cognitive bias", was also rejected.
The judge added: "Where a person by confession accepts he subscribes to the aims and means of an unlawful organisation which is prepared to commit terrorist outrages and has not disavowed any intent to carry on serious terrorist activities it becomes very much less unlikely that he could have been involved in the past in assisting such an organisation.
"We conclude that the judge was entitled to put this plea of guilty into the scales in determining whether the plaintiffs' case had been proved."
None of the Omagh bomb victims' relatives were in court to hear the ruling.
Two other men, convicted Real IRA leader Michael McKevitt and fellow dissident republican Liam Campbell, also failed to have the findings against them overturned.