2013 saw no move on Northern Ireland transfer tests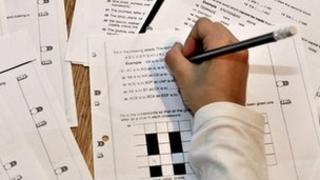 2013 was a year of protest in Northern Ireland education, of some progress on shared schools, but no movement on the unregulated transfer tests.
The plan to radically alter the way budgets for schools is shared out caused a furore.
The Department of Education is trying to skew more money towards pupils who are entitled to free school meals.
However, when the predicted budgets for primary schools were revealed, they caused both joy and outrage.
Andrews Memorial in Comber, County Down, faces cuts of £25,000.
Its principal, Ralph Magee, wanted to know why his school was suffering.
"I'm not arguing against children from deprived areas getting extra funding, but budgets in schools like ours are stretched to breaking point," he said.
Elmgrove, in east Belfast, would benefit to the tune of £161,000.
Jayne Jeffers, its head teacher, said: "I understand if principals who are losing money find that difficult to accept, but I have to fight for the children in my school and the money we get will be very well spent."
'Crude tool'
The outcry about funding included complaints that using free school meals as a determining factor, was a crude tool.
However, statistics released in December showed a stark difference between the GCSE performance of free school meal claimants and other pupils. They were half as likely to get five good grades.
Shared education has been a buzz phrase this year.
In May, the first and deputy first ministers said they wanted much more progress.
By 2023 they want 10 shared education campuses, and 100 cross-community summer camps.
The first shared campus is likely to be Lisanelly in Omagh, County Tyrone, which has now gained grammar school support, the key to the whole project.
There was also much curiosity about an idea from two schools in Moy, County Tyrone, that plan to share a building, with Protestants learning in one wing and Catholics in the other.
Cross-border schooling
The cross-border traffic in pupils from north and south of the border was highlighted in a story about how many pupils from the Republic of Ireland are being taught in secondary schools in Northern Ireland.
Four times as many go north as travel south to be educated.
There is a financial advantage for parents from the Republic. Sharon Flynn's two daughters attend St Joseph's High School in Crossmaglen, County Armagh.
"You pay for all the books in schools in the south, that can cost between 500 and 700 euros per child, per year. Here you pay nothing," she said.
In June, schools came under fire from the Public Accounts Committee for not sacking under-performing teachers.
That would release jobs for eager newly qualified teachers. They often cannot get posts and a new scheme created 270 places for them.
However a tight schedule meant that recruitment was not complete by the start of the school year.
Defenders of the Dickson Plan for education in the Craigavon area took to the streets to fight a plan that they said would dismantle it.
And, as unregulated transfer tests continue, an international team of researchers from the Organisation for Economic Co-operation and Development (OECD) said the system is causing problems for primary schools and pupils.
The report said parents were pressurising teachers and paying for private tuition in the race to get a place in a grammar schools, which now educate 43% of children, compared to less than 30% in the 1980s.