Power restored to 10,000 NI properties after storm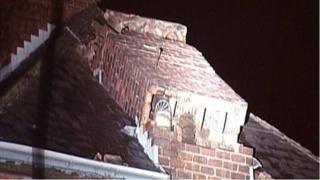 NIE has restored power to 10,000 customers after storms battered Northern Ireland from Wednesday afternoon.
NIE said 70 customers were still without power, but that could rise as people call in to report faults.
High winds sweeping across the countryside brought down trees with some roads flooded by heavy rain.
A number of roads have also been blocked by fallen trees.
In the Republic of Ireland, 7,000 homes are still without electricity, 5,000 of them in County Donegal.
NIE said its emergency crews were on stand-by to deal with further faults.
The company's spokeswoman, Julia Carson, said: "Our emergency crews worked through the night, carrying out repairs in areas where it was safe to do so.
"The winds peaked at 80mph, causing damage to the network.
"We may need to take some customers off supply this morning to facilitate network repairs, but our teams will be working from first light to restore all customers as quickly and safely as possible."
The Newry area has been badly hit with winds bringing down railings, chimneys and trees.
SDLP MLA Karen McKevitt said: "It just seems that the wind has come up from the Warrenpoint direction and taken a few Christmas trees down and cut power supplies," she said.
"It has caused some damage to chimney tops, trees have fallen and there are roads closed around the area."
In County Westmeath in the Republic of Ireland, a woman was killed when a tree fell on her car.
Elsewhere in the country, eight other people were injured as gales felled trees and damaged buildings and left thousands of premises without electricity.
Storm force winds were particularly strong along the south and east coast of Ireland.
At Kent railway station in Cork, storms ripped a 400m wooden canopy from its foundations and threw it onto a nearby train.
The highest warning in the Republic - a 'status red' - had been issued. It means action should be taken ahead of the storms.
NIE customers who lose their power supply can contact a helpline on 08457 643 643 or report the fault online at nie.co.uk.