Was 2013 the year NI's economy finally started to recover?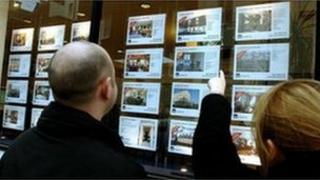 Was 2013 the year Northern Ireland's economy finally started a sustained recovery?
The downturn in Northern Ireland has been deep and depressingly long, but at the start of 2014 most of the economic indicators are pointing in the right direction.
Unemployment has been coming down very gradually, but consistently, with the number of people claiming Jobseeker's Allowance standing at 60,200 compared to nearly 65,000 a year ago.
There has been a series of substantial job announcements from Invest NI, mainly in manufacturing, with perhaps more to come as a result of the Belfast investment conference in October.
Growth
House prices have also stopped falling and are showing a tiny recovery - though people who bought in the bubble years are still deep in negative equity.
The official growth figures, the Northern Ireland Composite Economic Index, suggest the economy was still contracting in the first quarter of 2013.
Data, both official and in business surveys, released since then suggests that the economy flattened out in the spring before growth kicked in over the summer months.
Ultimately, most economists predict that growth in 2013 will have been just around 1%.
The outlook for 2014 is a bit more optimistic, ranging from the 1.6% growth predicted by Esmond Birnie of PricewaterhouseCoopers (PwC), up to the 2.4% forecast by Angela McGowan of Danske Bank.
A big question for many households is whether this will finally translate into rising wages - in 2013 wages were still being outpaced by the rate of inflation, and by one measure, were even falling in cash terms.
Key to continued recovery in Northern Ireland will be the performance of the economies of Republic of Ireland and the wider UK.
The consumption-led recovery of the UK seems set to continue though there is still more austerity to come than many people realise.
Optimism
For example, Northern Ireland has not yet felt the full blast of Westminster's welfare reforms.
There is also a bit more optimism in the post-bailout Republic.
However, its economy is still fragile - there will be another austerity budget, debts continue to weigh heavily on government and households, and the banks remain weak.
The precise shape of one bank - the Ulster - will become clearer in February when a review of its operations is completed.
In 2013 the bank, which is the largest in Northern Ireland, avoided the fate of being dumped into a Royal Bank of Scotland (RBS) bad bank.
Instead a review ordered by the UK government will see some of Ulster Bank's property loans run off more quickly.
The structure of the whole banking industry in Northern Ireland is currently under the scrutiny of Westminster's Northern Ireland Affairs Committee and the local chief executives are due to be questioned later this month (January).
Northern Ireland got a new finance minister in 2013 - 36-year-old Simon Hamilton of the DUP.
Public sector reform
He had effectively been shadowing the previous incumbent Sammy Wilson for about a year and so found his feet quickly.
His big idea is public sector reform and in 2014 we should see how that manifests itself.
For example, he has talked to the government's digital service, the award-winning team responsible for completely overhauling the UK government's websites.
That suggests a bigger role for online delivery of some services.
Minister Hamilton insists that, whatever happens, this is not an exercise aimed at finding job cuts.
But if the aim is creating a more efficient government bureaucracy, will it require the same number of people doing the same sorts of things?
Compared to his predecessor Mr Hamilton is also more unambiguously in favour of Northern Ireland getting the power to cut corporation tax.
And we might finally hear the prime minister's definitive view on that matter in 2014, once the Scottish independence referendum has been completed.