NI state papers: Gerry Adams prison request concerned Whitehall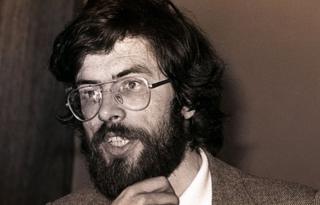 The question of whether to exclude the new Sinn Féin MP for West Belfast, Gerry Adams, from visiting British jails is detailed in releases from the Public Record Office in Belfast for 1983.
On July 2, 1983, Mr Adams wrote to the British Home Secretary, Leon Brittan, from the Sinn Féin Advice Centre at 51/53 Falls Road, Belfast on this issue: "A chara, I have learnt through a media that I have been banned by you from visiting my constituents here and in British jails. Can you confirm this to me and give me an explanation for this bann [sic]?" It is signed: "Le meas - G Adams".
This unexpected letter prompted the home secretary to write directly to Northern Ireland Secretary of State Jim Prior on the issue.
Mr Brittan referred to his earlier decision to refuse to allow Mr Adams to visit British prisons but expressed "particular concerns about the precise grounds" on which such a policy could be justified.
He proposed to tell the West Belfast MP that "in consultation with the secretary of state for Northern Ireland, who had adopted a similar policy, I have decided that because of your attitude to terrorism, you will not be allowed to visit prisons".
A problem arose, however, in that the Northern Ireland Office (NIO) had already allowed the Sinn Féin leader to visit his brother in prison.
Mr Brittan also raised the question of correspondence between Mr Adams and prisoners, noting that the Sinn Féin leader had distributed a questionnaire to IRA prisoners asking for "details of ill-treatment".
Guidance
The home secretary told Mr Prior: "At present we only stop correspondence with MPs when they contain unventilated complaints. As a result, it might be necessary to change prison rules."
In a memo on the file, S C Jackson of the NIO, opined that it was unlikely that Mr Adams would seek to challenge the ban as a breach of parliamentary privilege since this only applied when an MP took his seat.
The issue was raised with David Heyhoe of the Lord Privy Seal's office at Whitehall by D A Hill of the NIO in London on 1 August, 1982.
Hill offered general guidance if Mr Adams or other Sinn Féin elected members made representations to a minister: "It might be argued that Sinn Féin representatives should be treated in the same way as other MPs... but Mr Prior believes that Sinn Féin support of violence makes it both right and necessary to treat Sinn Féin representatives with more reserve than the representatives of the constitutional parties.
"Thus we suggest that a letter from a Sinn Féin MP addressed to a minister should normally receive a brief, formal ministerial reply."
Replies regarding constituents' problems must be adequately dealt with but "should be brief and formal, avoiding any appearance of friendliness. For example, phrases such as 'Thank you for your letter' or 'I regret that I am unable to grant your request' should be avoided..."
Allegation
The secretary of state's public position was that he would refuse to meet Sinn Féin representatives unless the party renounced violence.
In a letter in the file dated 10 June 1983, A J Merifield of the NIO told a colleague that recent statements by both Gerry Adams on News At Ten and Martin McGuinness in the Financial Times that month "showed condoning of violence and, indeed, positive support for it. Those who take that line cannot expect full benefit of the democratic process".
Against this background the NIO was concerned by a complaint by the late Eddie McGrady of the SDLP alleging briefings of Sinn Féin on local government issues by Stormont officials, specifically from the Department of the Environment. Mr McGrady had made the allegation at a meeting with Anthony Merifield of the NIO in November 1983.
The official said that he had told the SDLP South Down representative that "the early disclosure of information to Sinn Féin related to the British government's previous desire to encourage Sinn Féin constituency workers to involve themselves in constituency politics rather than the politics of violence".
He recognised that it was necessary for those working in the housing field to have working relationships with Sinn Féin, but was concerned that this tended to give the SDLP the impression "that government authorises warm relationships with Sinn Féin".
As a result, the government would need to be vigilant in applying their instructions regarding the treatment of Sinn Féin throughout the public service.
Responding to Mr Merifield's minute on 9 December 1983, another official, J F Russell, warned that "an absolute ban" on the republican party "would be difficult to implement and might become farcical". Any refusal to meet Sinn Féin representatives at local level might put considerable strain on staff.
Almost immediately on 12 December 1983, Mr Adams tested the government's evolving policy in a letter to Mr Prior on behalf of the families of the 19 IRA men recaptured after the Maze jailbreak. He alleged that the men were being moved from block to block and asked "how long this inhumane treatment would continue".