Mixed signals on Northern Ireland unemployment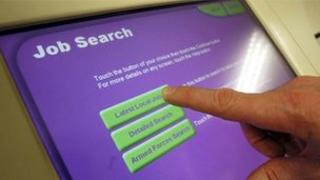 The number of people claiming Jobseeker's Allowance in NI fell again in November, down by 700.
That means the number of people on the dole stands at 60,200 compared to 64,800 at the start of 2013.
However, there was a surprise rise in the other measure of unemployment.
The Labour Force Survey (LFS) for the period from August to October showed an increase over the quarter in both the number of people who are unemployed and those who are economically inactive.
That means the unemployment rate in Northern Ireland is now back above the UK rate, which stands at 7.4%.
Overall, the trend points to a gradual but accelerating improvement in the jobs market.
Enterprise Minister Arlene Foster said the mixed figures indicate "that the path to full recovery in the Northern Ireland labour market can be uneven at times".
She said the rise in the quarterly rate was disappointing but was encouraged by the continuing fall in the number of benefit claimants.
Strategy
She added that there are also "positive signs" in terms of employee jobs, with seven consecutive quarterly increases.
The number of people classed as economically inactive - that is largely people who are not looking for work - is continuing to rise, up by 0.1% over the quarter.
The economic inactivity rate in Northern Ireland now stands at 27.4%, compared to a UK average of 22.1%.
Earlier this month the Stormont Executive launched a strategy aimed at tackling the problem of economic inactivity.
It aims to get 30,000 more people into work over the next 10 years.
Part of the plan includes setting up a task force and incentive schemes for employers.