Haass talks: New set of proposals expected by Thursday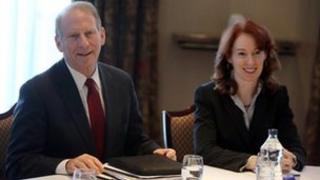 NI's main political parties are expected to soon receive a new set of proposals aimed at resolving disputes over flags, parades and the past.
The document is being prepared by the former US diplomat, Richard Haass, who is chairing talks on the three issues.
A previous draft of proposals were criticised by unionists earlier this week.
David Cameron told the Commons on Wednesday that everyone should "look at the process with some give and take".
The prime minister was responding to a question from the DUP's Gregory Campbell who complained that some of Dr Haass's initial proposals amounted to "a dilution of Northern Ireland's Britishness".
Mr Cameron said he had met Dr Haass and regarded him as an incredibly impressive individual carrying out a "very important and extremely difficult task".
The original plan was for all five executive parties to meet on Wednesday around the same table. But after his original draft document was dismissed by the DUP, Dr Haass decided on a re-write.
It is believed the revised proposals will be given to the five executive parties by Thursday morning.
Hope
The East Belfast Alliance MP, Naomi Long, said the public would feel let down if politicians could not make a deal.
She said people had invested hope and expectation in the talks process chaired by Dr Haass.
Mrs Long said the public were more flexible than some elected representatives, and politicians would be judged harshly if they did not reach an agreement in the coming days.
The SDLP MLA Alex Atwood said the parties had an obligation to victims.
"If any party or government fails in measuring up to what they seek, I think there will be a withering indictment of those who have failed so graphically to deal with that issue once and for all," he said.
Limited immunity
Meanwhile, Northern Ireland Secretary of State Theresa Villiers met with the Irish Deputy Prime Minister (Tánaiste) Eamon Gilmore in Dublin on Wednesday to discuss the Haass proposals.
Speaking afterwards, Ms Villiers said the use of limited immunity for people providing information about their role in the Troubles was possible, and had been used in other cases such as the Bloody Sunday inquiry.
The secretary of state said the cost of any new institutions set up to deal with the past was difficult to assess, but the UK government believed it was primarily for the Stormont Executive to find the financial resources for such matters.
Mr Gilmore would not comment on when the Irish tricolour should be flown in Northern Ireland, which has been a point of contention in the Haass talks.
The Irish foreign minister insisted it would not be helpful to discuss issues which have not yet been resolved.
Both ministers said they were committed to supporting the Haass process and encouraged everyone to work to resolve outstanding problems.
'Still hopeful'
Dr Haass is being assisted in the negotiations by Harvard professor Meghan O'Sullivan, who is the vice chair of the talks.
He has said he is still hopeful of reaching agreement by the end of this week.
Earlier this week, Northern Ireland First Minister Peter Robinson, who leads the largest unionist party, said there would be "steam coming out of my ears" if he thought that the first draft Haass document was the final paper.
Sinn Féin's Gerry Kelly said his party had "difficulty" with some of the proposals in the first paper, but added that agreement was possible.