Hugh Reid and Marcus Lewis plead guilty over film theft racket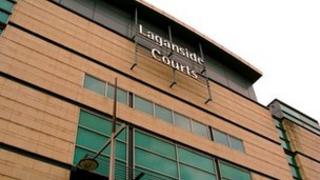 A father and son-in-law have been given suspended jail sentences for their part in a internet movie theft racket.
Hugh Reid, of Knockvale Park, Belfast, and Marcus Lewis, from Suffolk in England, pleaded guilty to distributing articles that infringed copyright law.
The Federation of Copyright Theft (FACT) discovered a website called Araditracker that offered downloads of films, computer games and books.
But Belfast Crown Court heard the site was supplying illegally copied items.
Investigations revealed that Araditracker had 33,000 subscribers who were asked to make "donations'' to the website between November 2007 and August 2008.
The business was set up under the guise of buying radiators or parts for radiators.
Shut down
But members to the site were in fact paying for music, film and game downloads that had copied in cinemas or "ripped'' from promotional DVDs sent out to the media.
A prosecution lawyer said that because of the volume of money coming into the site, the online payment service PayPal refused to take any more money for Araditracker.
But no sooner had Araditracker been shut down than another website opened up under the guise of I Love To Buy Books, the court heard.
In August 2008, the Police Service of Northern Ireland and FACT investigators raided the home of 70-year-old Mr Reid at Knockvale Park in Belfast.
They removed computer equipment and other documents that later linked the pensioner to his involvement in Araditracker.
The prosecuting lawyer said Reid had been running Radiator Services NI Ltd but around 2006 the company hit hard times because of a downturn in business and he set up Araditracker.
Forensic analysis
A search was also later carried out at Marcus Lewis's then home in Colwyn Bay, Wales on 25 November, 2011.
The court heard that a computer belonging to the web page designer was also seized.
A forensic analysis also linked Lewis to the distribution of the copyright material and the judge was told that he was involved in the "maintenance of the Araditracker system'' on a daily basis.
The court heard Lewis, who is married to Reid's daughter, had a clear record, and had left Wales following his arrest to start a new life and career in England.
The judge said the film industry is a "multi-million pound, if not multi-billion pound industry which employs many people".
"There are people who work here locally who work to make films locally in this jurisdiction and in others as well.
"There are also the people who work in cinemas, the people who distributed DVDS who are all affected by copyright infringements."
The judge added that the offence the defendants had pleaded guilty to was nothing less than "theft''.
Confiscation
She added that she believed Lewis had a greater role in the operation given his computer and webpage skills.
"You must have known from an early stage that this was criminal behaviour.''
The judge sentenced both men to two years in prison suspended for two years.
A confiscation hearing will take place next month to recover £33,000 from Reid.
His defence counsel said the defendant "had the means'' to settle the matter in full.