Alan Gerrard refused bail over over £100k drugs seizure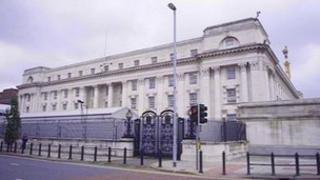 A man accused of supplying £100,000 worth of cocaine destined for the Northern Irish drugs market must remain in custody, the High Court has ruled.
Alan Gerrard was refused bail amid claims he played a key role in smuggling the consignment across the Irish Sea, prosecutors said.
The 54-year-old, of Hare Croft, Liverpool, is charged with conspiracy to supply Class A drugs.
His arrest followed a drugs seizure near Newry, County Down, on 3 November.
He was among four people detained in connection with the seizure of 1.5 kilos of cocaine, with an estimated street value of £100,000, following a surveillance operation involving National Crime Agency officers.
CCTV
Police found the drugs after stopping a Volkwagen Golf driven by a co-accused on the A1 near Newry.
Weeks earlier a third alleged member of the gang, a 38-year-old Belfast man, withdrew £34,000 in cash from his bank account, the court heard.
It was claimed that this money was then taken to Mr Gerrard in Liverpool.
The cocaine was then collected and brought by ferry to the Republic of Ireland before being moved north of the border.
Mr Gerrard was later detained and transferred to Northern Ireland to be questioned and charged.
Opposing bail, a prosecution lawyer said the accused was linked to the drugs plot by CCTV, witness and telephone evidence.
"It's believed this man played a key role in the criminal enterprise," she said.
'Tobacco entrepreneurship'
A piece of paper with names on it, found hidden in a mobile phone seized from him, is suspected to refer to dealing figures, the court heard.
It was also alleged that police have evidence of £10,000 in cash having been sent to Mr Gerrard from other people in Northern Ireland this year.
But a defence barrister described the accused as a self-employed roofer who runs a "small-time tobacco entrepreneurship" posting quantities across the Irish Sea.
He also said that the surveillance operation had not shown any money being passed to Mr Gerrard.
The accused's wife and three other people were each prepared to put up £5,000 in a bid to secure his release.
However, the judge refused the bail application.