Fire bomb ignites in Belfast city centre shop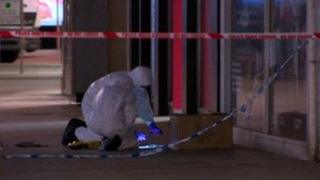 A fire bomb has ignited in a sports shop in Belfast city centre.
The store owner has told the BBC he saw a man in the shop who had an incendiary device inside his coat which ignited, setting the coat on fire.
The shop owner, Nick Pierpoint, said the man then dropped the fire bomb and ran out of the store, passing shoppers with his clothing in flames.
It happened at about 18:40 GMT at the Golf Madness store in Cornmarket and Mr Pierpoint described it as "sickening".
'Scarpered'
"He seemed to be flicking at something and I think maybe the thing (fire bomb) had gone off and then, literally, he started to go into flames, which obviously panicked him and panicked us, and he just ran out of the shop and ran down the street," Mr Pierpoint said.
"Obviously our first concern - no matter what his intentions were - (was) how he was, but he had absolutely scarpered and the device had fallen from him and was in flames in the street," the shop owner added.
The area was then evacuated as Army bomb disposal officers examined the device.
The security operation, which lasted almost four hours, ended at about 22:30 GMT when the police cordon was lifted.
Officers have advised businesses to check city centre premises for any suspicious objects.
The fire bomb attack follows two small bomb explosions in the city centre within the past four weeks.
Police mounted an extensive security operation after a car bomb partially exploded outside Victoria Square shopping centre on 24 November.
Last Friday night, a small bomb placed inside a holdall detonated in Belfast's Cathedral Quarter as police were clearing members of the public from the area.
No-one was injured in either of the bombings, which were blamed on dissident republican paramilitaries.
'Reckless'
Incendiary devices were used widely by paramilitaries during the Troubles to disrupt trade in Northern Ireland but the tactic has been rarely in recent years.
Glyn Roberts, chief executive of the Northern Ireland Retail Trade Association, said: "There is absolute utter disgust that yet again Belfast city centre is in the headlines for the wrong reasons.
"I think a message needs to go out to the people who plant these bombs - you simply will not win, you're not going to ruin our town centre and you're not going to ruin Christmas."
Alban Maginness from the Social Democratic and Labour Party (SDLP) said: "It beggars belief that following the placing of a bomb in the Cathedral Quarter on Friday night that Belfast would be faced with yet another attempted act of wanton destruction.
"To place an incendiary device in a busy shopping area is both reckless and irresponsible and serves no rational purpose.
"Those behind this incendiary device are anti-Belfast and just want to threaten jobs, livelihoods and people's enjoyment of our city. They must not be permitted to prevail," he added.
Anna Lo from the Alliance party said: "I am sickened that yet again lives have been put at risk by the mindless actions of these callous and evil individuals.
"There is no place in our society for those who wish to bring death, injury and destruction to our streets."