Kevin McElroy accused of drunk driving and assault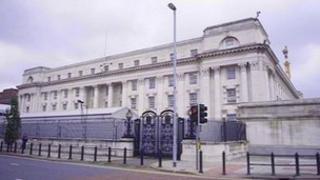 A man who was allegedly drunk crashed after driving the wrong way around a roundabout and then swung a punch at a helper, the High Court has heard.
Kevin McElroy flouted a motoring ban to drive after drinking twice the legal alcohol limit, prosecutors said.
The 29-year-old is charged with assault, dangerous driving, driving while disqualified and failing to remain at the scene of an accident.
Mr McElroy, of Trasna Way, Lisnaskea, County Fermanagh, was refused bail.
The judge was told he failed to stop for police after they witnessed him driving a Vauxhall Astra in Lisnaskea last Tueday.
He was then seen speeding around a traffic island and driving on the wrong side of the road, it was claimed.
Later that night, Mr McElroy was allegedly observed going the wrong way on a roundabout at Drumhaw.
Witnesses
Police were then alerted to a report of his car colliding with a property in Newtownbutler, County Fermanagh.
"Two members of the public had gone to his aid when there was a crash," a prosecution lawyer said.
"The applicant assaulted one of the witnesses, he swung a punch at him and ran off before eventually being detained."
The barrister added: "The roundabout at Drumhaw was described as being very busy.
"Police say they are astonished there were no other cars coming in the other direction and that it was pure luck."
Opposing bail due to the risk the accused poses, the prosecution barrister claimed: "It's potentially grave for members of the public, both pedestrians and other road users."
'Danger'
A defence barrister said his client's car has been seized by police and he has no other access to a vehicle.
The barrister also said that the alleged assault involved throwing a punch that failed to connect.
But refusing bail, the judge said: "The court is clearly concerned as to the danger to the public from someone in the position of the defendant."