PSNI teams up with offenders to reduce crime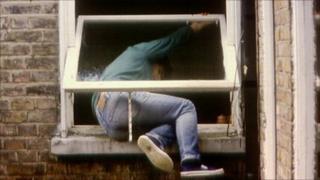 The police and some of Northern Ireland's most prolific criminals are working together to help reduce levels of crime.
They are working alongside other criminal justice agencies like the Probation Board, Youth Justice and the Prison Service in a joint initiative called Reducing Offending in Partnership.
It is based on evidence that prolific offenders commit the vast majority of acquisitive crime such as robberies, burglaries and thefts.
The police say about 80% of these crimes are committed by 10-20% of criminals in an area, and that it therefore makes sense to target those offenders.
Specialist teams in each of the eight police districts across Northern Ireland identify the most prolific offenders and bring together various criminal justice agencies to try to reduce the likelihood that they will re-offend.
There are 371 priority offenders currently being managed through the partnership across Northern Ireland.
The scheme has three strands:
Prevent and Deter aims to reduce crime and antisocial behaviour through early identification and intervention
Rehabilitate and Resettle aims to help offenders after their release from prison: this can include assisting them to access education and training to improve their chances of finding employment, finding housing, and combating addictions such as drugs and alcohol
If those can be described as the potential carrots for offenders taking part in the scheme, the Catch and Control strand is a stick for those who refuse to change their behaviour - it means individuals who persist in their offending are closely monitored by the police and sent back to prison when they re-offend.
"It's about tackling crime from the bottom up," says Chief Superintendent Alan McCrum, who is PSNI district commander for South and East Belfast and chair of the programme steering group.
"These are the offenders who have invariably very substantial criminal records - some of them have been involved in criminal activity for a long number of years.
"We focus on those individuals and work with the probation board, youth justice agency and prisons to try and give them an opportunity to actually live their lives in a different way, so that they are not going to continue to commit crime, and get them off that continuous circle of offending and re-offending."
He rejects any suggestion that the programme is a soft option for criminals, and insists the 'catch and control' strand ensures there are serious consequences for those who refuse to change their ways.
"There is a choice here, and there is a consequence. If offenders continue to want to offend, they are left in no doubt that we will be on their case and they will be relentless in making sure they are held to account for what they do and they will be sent back to prison if they re-offend."
Free of drugs
Adrian Donegan is cited as an example of how the programme can work.
The 29-year-old was arrested by police more than 80 times and jailed on a number of occasions during a life of crime that started when he was just 13 and stealing money to play gaming machines.
Expelled from school "for messing about and getting into trouble", he developed a drug problem and by the age of 22 had progressed to heroin.
At that stage he was stealing items like phones, bottles of spirits and clothes to sell to raise the £25 he needed to pay for his drugs every day.
His periods in prison did not stop him re-offending when he was released, but he eventually became tired of what Alan McCrum calls the continuous circle of offending and prison, and signed up for the programme.
Adrian has now settled down with a partner, Leanne, they are expecting a child early next year, and he has been free of crime and drugs for more than a year and a half.
"I had been arrested lots of times, I'd been fined, done probation, been in prison," he says.
"I just got fed up of being in and out of jail and taking the drugs, I'd overdosed a few times, and then when I met Leanne that changed things too.
"I just feel a lot better about myself now, a lot more confidence, a completely different person."
The police and probation board endorse his claim that he has changed and he is no longer on the list of prolific offenders.
"People can change - it's up to you, you can change if you want, no-one else can do it for you," he says.
"I've changed and won't be going back."
Success stories
The agencies involved in the programme say there is abundant evidence that it works.
They say that last year in the PSNI's H district, which includes Ballymena and Coleraine, 68% of those prolific offenders taking part in the programme reduced their offending, and acquisitive crimes like burglaries and thefts were significantly reduced.
They also point out that Belfast last year had the lowest levels of burglary for more than 10 years, and say that is directly connected to the fact that the most prolific offenders in the city were targeted as part of the programme.
Alan Henry works for the probation board, and says he has many concrete examples of success stories.
"I was told recently that one of the people I worked with has now started his own business and has not offended during the past 12 months, and as recognition of that has now been removed from the offender programme," he says.
"Prison has its place and is there to protect the public from individuals who may cause significant harm, but this programme is about creating a change in attitude which prisons sometimes may not be able to do."