Motorcyclist 'had massive quantity of liquid mercury'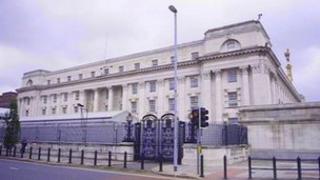 Liquid mercury allegedly seized from a motorcyclist could have been used in booby-trap bombs, a court has heard.
Prosecutors claimed Gabriel Mackle, 40, had a "massive quantity" of the substance in a rucksack when he was stopped in Lurgan, County Armagh.
Shotgun cartridges were also recovered, the High Court in Belfast was told.
The accused, of Glebe Hill Manor, Tandragee, is charged with having articles for use in terrorism and ammunition in suspicious circumstances.
A prosecution lawyer told the bail hearing the father-of-four was stopped by police at Victoria Street in Lurgan on 7 August.
'Numerous devices'
The barrister claimed that forensic tests confirmed that 67ml of liquid mercury, weighing up to 900g, had been recovered.
He said similar substances has been used to make tilt switches for improvised explosives and booby-trap devices.
"Police say there is the potential for numerous of these devices to be facilitated as a result of this material," he said.
"It's described by police as a massive quantity of mercury to be possessing."
Delays
Opposing bail, he said: "Police say there is a current dissident republican threat and that this applicant is linked to dissident republicans and such activity."
Defence lawyers said Mr Mackle should be released due to delays in the case.
They said they had not received any forensic report on the liquid mercury, and also raised issues about Mr Mackle's health following a serious motorcycle accident.
The judge was told the accused's brother was prepared to lodge the deeds to his farm as a surety to allay any fears he may flee.
Adjourning the bail application, the judge said he wanted to listen to tapes of a previous hearing before reaching his decision.