Belfast Cathedral Quarter bomb 'cost restaurants £60,000'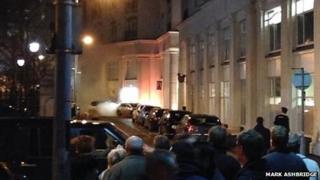 The bill to Belfast restaurants caught up in Friday night's bomb attack has been put at £60,000.
The economic impact of the explosion will be even higher when other businesses factor in their costs.
A small device in a holdall detonated as police were clearing the area in the Cathedral Quarter.
About 1,000 people were affected by the alert in the area, which is one of Belfast's main entertainment venues and home to several bars and restaurants.
One restaurant told the BBC the cost to them was about £5,000.
Mark Ashbridge and his partner Bridgeen Barbour have sunk their life savings into a coffee shop in the area.
He left a job in the civil service to open the business. The tills had only been turning over for four days when the bomb went off.
"I just hope that we're going to continue to have a business here open and people will come in and support us and support the people of Belfast," Ms Barbour said
"We can't be held to ransom like that."