Irish trade unionist John Quinn commemorated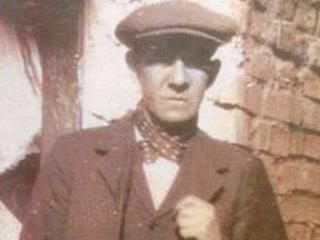 A headstone for a Belfast man who played a pivotal role in the Irish trade union movement has been unveiled at the city's Milltown cemetery.
John Quinn, a docker, was one of those who helped found the Irish Transport and General Workers Union (ITGWU).
He was a close friend and comrade of Jim Larkin and James Connolly.
Mr Quinn, who died in 1935, had been buried in an unmarked grave. But on Saturday, his importance was underlined with a new headstone in his memory.
The Irish government part-funded the memorial in the west Belfast cemetery in recognition of his trade union role.
Family and friends travelled from across the world to see his memorial unveiled.
His grand daughter, Marie Quinn, travelled from Qatar to be present.
His great grandson, Robbie Hunter who is the president of the California Construction Trade Union, also travelled to Belfast to remember him.
Brian Quinn, a grand nephew of John Quinn, said it was a moving ceremony.
"It was great to honour a man for the work he did in Belfast, unionising men in the 1900s," he said.
John's granddaughter is the actress Patricia Quinn, who played Magenta in the Rocky Horror Picture Show, and his great-grandson is Jonny Quinn, the drummer of band Snow Patrol.
They have both been part of the campaign to have Mr Quinn recognised.
The memorial was funded by the Irish Department of Foreign Affairs following an application from the Shared History Interpretive Project (Ship) to their DFAT Reconciliation Fund.
They made a contribution of about 2,000 euros (£1,675) to the project.
Kieran Quinn, Ship, said: "John dedicated as much time as possible to improve basic working and living conditions of his fellow workers and neighbours.
"He played a pivotal role in the union politics of that era that resulted in Belfast dockers refusing to recognise the National Union of Dockworkers and instead supporting the establishment of the ITGWU.
"During general dock history research that Ship started carrying out since 2007, we became aware of John and his activities and his family history.
"On discovering John's comradeship with Winifred Carney, James Connolly and Jim Larkin, and his political and union activities, we had no hesitation in dedicating one of our 35 tribute banners to John's memory."