Belfast rapist Edward Connors jailed in Dublin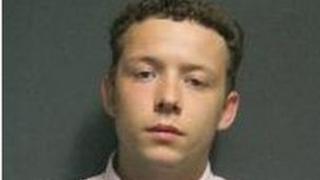 It has emerged that a Belfast rapist missing since he failed to turn up at a court hearing in Dublin in August 2012 was jailed for four months last week.
Edward Connors, 20, raped an American tourist in a west Belfast forest park five years ago when he was 15.
He failed to appear in court in Dublin on 29 August of last year where he was charged with failing to notify authorities he had entered the state.
He went on the run, but was arrested by Irish police on 20 November 2013.
Connors was 15 when he twice raped a 29-year-old American tourist in Colin Glen forest in west Belfast five years ago.
Afterwards he fled to Dublin but later gave himself up.
In 2009, he was jailed for eight years; he had spent a year in custody on remand prior to his trial and was released from custody in 2012 after serving four years.
He had been on the run from police in Northern Ireland after failing to attend a hearing at Belfast Magistrates' Court on 16 July last year to face a charge of breaching one of his probation conditions by failing to complete a programme of work to address his sexual offending.
He was charged at Dublin District Court on July 26, 2012 with failing to notify the authorities of his name, address and date of birth contrary to the Sex Offenders Act 2001.
He had been arrested at Labre Park, in west Dublin, where he had been staying and a week later he successfully applied for bail when he appeared at Cloverhill District Court.
'Flight risk'
At that hearing, on August 1, 2012, a Garda officer had objected to bail saying he believed that the youth "would be a flight risk" and did "not normally reside in this country".
However, a judge presiding at Cloverhill District Court, granted bail with a number of conditions and ordered him to appear again at Cloverhill District Court on August 29, 2012.
However, on that date Connors did not show up to his court hearing and a bench warrant was issued for his arrest.