Row erupts between DUP and Richard Haass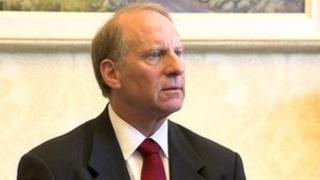 It has emerged there was a row between the DUP and multi-party talks chairman Richard Haass on Thursday.
Party sources have told the BBC they are "spitting blood".
No further details were given, though Thursday's meeting would have centred on the issue of flags.
Before going in to meet the former US diplomat on Friday afternoon, the Lagan Valley MP Jeffrey Donaldson said the party had been "robust".
"Well I don't want to try and characterise any of the meetings that we have had," he said.
"When it has come to propositions that have been put to us with which we are in clear disagreement, we have left no-one in any doubt about our disagreement."
The DUP is currently meeting the Haass team in talks dealing with the past.
Further multi-party talks have been taking place on Friday, and will continue over the weekend.
Dr Haass has said he is determined to bring the talks to a head by the end of the year, and ideally before Christmas.
The US diplomat has returned to Northern Ireland on Monday for what he said would be an "intense two weeks of deliberations and negotiations".
Compromise
He will hold three separate meetings on flags, parades, and the past, with each of the five biggest political parties.
Speaking before going into Friday's talks, Sinn Féin MLA Gerry Kelly said all parties had room for compromise.
"As far as we're concerned, anything that any of the parties want to put on the table, we will listen to it," he said.
"Anything that Richard Haass puts on the table, we are going to listen to it and discuss it."
Mr Kelly said progress was being made, but he would not be drawn on the specific details.
'Be ambitious'
Naomi Long of the Alliance Party urged Mr Haass to be ambitious.
"I would prefer it was a five-party agreement, but if Richard Haass has to make a call on this process as a result of us not reaching full agreement, then I would certainly urge him to do that and to be ambitious with his proposals," she said.
"Then I think the public will be able to judge who has actually made a constructive contribution throughout this process."
Assistant Chief Constable Will Kerr said police needed the talks to succeed.
"At the very least we need them to provide a signpost, a more positive signpost, for those three issues on which we are spending a disproportionate and in some cases a vast amount of time and money and effort dealing with - things that are taking us away from our core policing activities."
The Haass team is to work over the weekend, meeting with the SDLP and Ulster Unionists on Saturday.
They are due to see the secretary of state and Downing Street officials in London on Monday.
A more comprehensive document is to be presented to the parties early next week and the process is due to come to a culmination by the end of next week.