Bangor carer Lesley Boyd jailed over £100,000 theft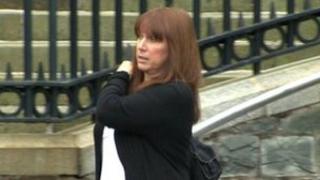 A carer, who admitted stealing over £100,000 from an elderly man she looked after, has been jailed for four months.
Lesley Dorothea Helen Boyd, 56, from Chippendale Avenue, Bangor, County Down, pleaded guilty to six counts of fraud and one of theft in September.
She wrote cheques totalling £61,000 from the account of Cecil (Jock) McAllister in 2009 and 2010, and stole £44,000 of cash from him.
The judge ordered that she must sell her home to pay back the monies.
Mr McAllister has since died.
Judge David Smyth told Boyd on Friday that while she had been clearly close to Mr McAllister, a man in his 90s, by her guilty pleas she accepted she had "crossed the boundaries of closeness and friendship".
The judge told Downpatrick Crown Court that while in her position of trust she was "expected to safeguard the financial interests of Mr McAllister and in that position you accepted sums of money".
"These were well in excess of small gifts, but were substantial sums and total £113,000, over a period of 16 months," said Judge Smyth, who added however, he was satisfied Boyd had not extorted the money "for favours", but accepted monies knowing it was wrong and criminal to do so.
'Temptation'
"You had crossed the line and knew what you were doing would be regarded as wrong and dishonest by right thinking people," Judge Smith said.
"You succumbed to greed and temptation. It is impossible to view this in any other way than, without force or coercion, you exploited a vulnerable man albeit one who at different times expressed his views towards you in a variety of different ways.
"You went beyond the role of a carer, allowing yourself to get too close to him. The scale of what you took from him cannot be but regarded as significant and substantial, even if on occasions he wished to give you gifts of money,"
Although Boyd tried to cover-up her wrong-doing, it was uncovered by Mr McAllister's great nephew Stephen Mullen. At one stage Boyd even suggested his great uncle might be moved away from the County Down area to the west of Ireland.
'Shame'
Judge Smyth also told Boyd that she would lose her home as a result of his order for her to pay compensation, but that there was also an "important public principle involved and that is that the ultimate criminal sanction has to be custody for a carer who takes this amount of over this period".
Despite her years of services as a carer, Judge Smyth said that service had "ended in shame and that must also have an impact on your family".
The 56-year-old mother and grandmother-of-three was also ordered to serve 12 months on licence.
Speaking outside the court Mr McAllister's great-nephew Mr Mullen said while he was relieved that the case had come to a resolution, he said there were "absolutely no winners here".
"Those in a position of caring need to go above and beyond to make sure that they're safeguarding the people that they're looking after, that's really the key message there today," said Mr Mullen adding "the message that has to be taken from this case is that if it happened to Jock it can happen to anyone."
Asked how he felt about Mrs Boyd, he said while he held no ill feelings, "I feel sorry that she's put herself in this position".
Mr Mullen also paid tribute to everyone who assisted in the investigation.