Nelson Mandela death: Belfast City Hall lit up in tribute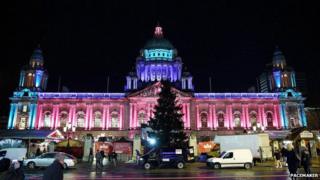 Belfast City Hall was lit up in the colours of the South African flag on Sunday in tribute to Nelson Mandela.
A state funeral for South Africa's first black president took place at his ancestral home of Qunu in the Eastern Cape on Sunday.
Lord Mayor of Belfast, Máirtín Ó Muilleoir said he was pleased that the city could pay its own tribute.
"This is to mark the fact that it is a day of great sadness because the world is losing Nelson Mandela," he said.
"It is also a day of great joy. He has given us so much and we want to celebrate his life as well."
On Saturday, a special service was held in Belfast at St Anne's Cathedral.
Mr Ó Muilleoir and the Dean of Belfast, the Very Reverend John Mann, took part.
'Celebration'
The service was open to the public, and other participants included representatives of the Roman Catholic, Methodist and Presbyterian churches, as well as the Hindu and Bahá'í faiths.
Before the service Mr Ó Muilleoir said: "This is an opportunity for the people of Belfast to reflect on the life of Nelson Mandela and give thanks for the inspiration and legacy he has left us."
Dean Mann added: "I welcome this opportunity to share with the lord mayor and the African community in Belfast in a celebration of the life of Nelson Mandela.
"It is important that we mark the occasion of his death, but yet more important that we learn the lessons of his life."
The service, called Reflections on the Life of Nelson Mandela - Lessons in Peace and Reconciliation, was inspired by Mr Mandela's life.
It had been jointly organised by Mr Ó Muilleoir, Dean Mann, the Chapter of St Anne's Cathedral and the African and Caribbean Support Organisation NI (ACSONI).
Meanwhile, Omagh Trades Union Council held its own ceremony to celebrate the life and legacy of the former South African president.
It took place on Sunday morning to coincide with the funeral.