Theresa Villiers appoints new Parades Commission panel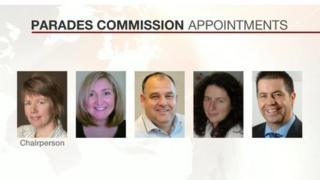 The Secretary of State for Northern Ireland has announced five new appointments to the Parades Commission.
Theresa Villiers has appointed Anne Henderson as chair of the commission.
Sarah Havlin, Colin Kennedy, Frances McCartney and Glyn Roberts have been appointed as members and will take up their posts on 1 January 2014.
Ms Villiers said she was "confident" that the new team would make a valuable contribution to the work of the Parades Commission.
"I very much hope that the Haass talks will lead to a locally agreed means of adjudicating contentious parades in the future," she said.
"But in the meantime, the Parades Commission remains the legally constituted body responsible for determining these matters and the new chair and members appointed today will have important work to carry out in the months ahead."
The Parades Commission was established in 1997 to issue determinations on proposed parades, and to resolve disagreements between political parties concerning parades.
Ms Villiers added: "The new commission will continue to engage with local communities and parading organisations to encourage local dialogue and locally agreed solutions on contentious parades.
"I strongly encourage everyone in Northern Ireland with an interest in parading to work with the commission to ensure their voice is heard."
The Secretary of State also thanked the outgoing commission.
The new commission members will take up their posts in the new year.
Anne Henderson is a chartered accountant and was vice-chair of the Housing Executive from 2004 until 2012.
Sarah Havlin has had an extensive career as a solicitor and is currently the certification officer of Northern Ireland.
Colin Kennedy is chief executive of the Mary Peters Trust and spent 14 years working in the finance industry.
Frances McCartney is a part-time judge and partner of a law firm in Glasgow, specialising in human rights claims, environmental planning and public law.
Glyn Roberts is the chief executive of the Northern Ireland Independent Retail Trade Association (NIIRTA).