Northern Ireland victims issue will be tough to resolve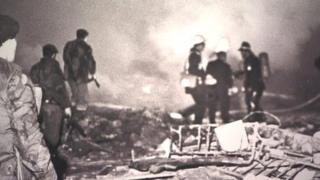 Paul Gallagher was 21 when UFF gunmen burst into his home on the Stewartstown Road in west Belfast in January 1993.
They were posing as the IRA and held him and his Catholic family hostage.
The loyalists were using his home, he said, to launch an attack on former republican prisoners who lived nearby.
Eventually the loyalists tired of waiting for the republicans and, as the gunmen fled, one of them opened fire on the family living room with a submachine gun.
Paul Gallagher was riddled with six bullets, leaving him in a wheelchair.
As one of thousands of victims and survivors, he is living with the legacy of the past. It is a legacy US diplomat Richard Haass is focusing on as part of multi-party talks set to end before Christmas.
Dr Haass is not short of ideas - hundreds of submissions have been made.
Some ideas were put to him for example in a paper by academics Prof Kieran McEvoy and Louise Mallinder.
Their paper, Models on Truth, Amnesty and Prosecution, explores options that include a truth commission where justice is limited. This means the ability to prosecute is limited by immunity.
For example, any statement or document provided to a truth commission would not be admissible in court. There would be some scope for prosecution, however, if the person failed to tell the truth or there was independent evidence including DNA.
Mr Gallagher said on a personal level he is not interested in a truth commission or prosecutions.
He told BBC Northern Ireland's The View: "I know the truth. People would put it down to, it was 'any Catholic will do', when it came to me.
"So I know my truth. Finding out why somebody else did what they did to me, it's not going to give me any help or help me to sleep better at night."
Mr Gallagher said his focus now was on getting resources to support victims psychologically, physically and financially.
He is studying for a degree in psychological trauma. He warns that there are risks for victims in pursuing a truth commission and counselling should be provided.
'Door to justice narrows'
While some victims may be helped to move on, others could be left with perhaps more trauma, more questions and no satisfaction.
"In some cases it will probably make them worse," Mr Gallagher said.
Other victims insist they want both truth and justice.
But this has become increasingly problematic with the passage of time, as the door to truth remains open, the door to justice is narrowing.
Indeed last month's conviction of Seamus Kearney, 57, of Gorteade Road, Maghera, is a rarity.
Kearney was convicted on DNA evidence decades after he shot RUC reservist John Proctor in 1981. Mr Proctor had just visited his new-born son in hospital and outside the court his widow declared: "Our day has come."
Kearney was sentenced to 20 years, but will be released after two due to the terms of the Good Friday Agreement.
Still, it was more than most will serve.
Tales of bloodshed
Dr Mallinder points out that only three out of 1,800 cases examined post-Troubles by the Historical Enquiries Team have resulted in convictions. "There isn't going to be much other evidence coming out," she added.
What has been coming out? Tales of bloodshed, told to reporters, not judges.
A BBC Panorama aired last month featured the case of father-of-six Patrick McVeigh, among others.
He was shot dead on a west Belfast street in 1972 by an undercover Army unit - though the soldier who fired the fatal shot was not interviewed.
Mr McVeigh's daughter, Patricia, is seeking an inquest, and is clinging to the hope of justice, however slim.
"We expect justice. My father died. He was innocent and if he could talk, I think he would be looking for justice," she said.
"You can't take somebody's life and not pay in some way for it, otherwise the Jewish people who are looking for Nazi war criminals, should they stop? Should they stop looking?"
Not all victims' families feel this way and indeed a truth commission is likely to divide many families.
Victims' campaigner Ann Travers opposes a truth commission if it even partially shields killers from justice.
"I don't think you can separate truth and justice. Personally I think they both have to go together," she said.
Her sister was shot dead by the IRA as she walked from Mass in 1984. Her father, a judge, was wounded.
Only Mary McArdle, briefly a Sinn Fein special advisor at Stormont, was jailed for her part in the murder. But there were others involved.
Ann Travers watched with interest the recent Smithwick Inquiry into the IRA killing of two RUC officers in 1989. IRA witnesses gave statements under the shield of limited immunity.
She noted Judge Smithwick's remark that the IRA evidence was not trustworthy.
She, too, is questioning whether any killer, including her sister's, would tell the truth to any commission. She also believes any such evidence would be self-serving and therefore hurtful or likely to add to the trauma of victims.
Ms Travers said whatever Dr Haass decided to put in his report, victims should come first, and there should be a range of options to suit a variety of opinions within this sector.